The Supreme Court order banning a transaction fee on air tickets has not made air travel cheaper. Agents continue to collect what they now call a service fee from customers.
The agents contend the apex court order restricts airlines from charging a transaction fee but there is no ban on agents charging a fee for the services they render. Agents are now free to charge any amount for the service, as airlines have withdrawn the fee component in their fares.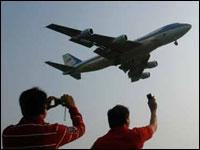 In its order last month, the SC had said a transaction fee cannot be collected from passengers in any form until the civil aviation secretary takes a final decision on the issue. Last December, the Directorate General of Civil Aviation had issued a circular restraining airlines from collecting a transaction fee in the fares, as it was not in consonance with the Aircraft Rules, 1937.
The Federation of Indian Airlines moved the Delhi high court against the circular and the latter had allowed the former to file an appeal with the ministry.
In the case of low-cost airlines, the ticket included a transaction fee, in a separate head. This fee was collected and retained by travel agents. Air India (AI) and Jet Airways' tickets referred to the transaction fee as other charges.' After the SC order, airlines have stopped including the transaction fee as a component of the fare and it does not get printed on a ticket.
AI had issued a letter to travel agents to desist from charging any transaction fee. It had, however, said the agents may charge customers for rendering the service. And so, the agents are charging what they term a management fee or a service fee from passengers.
Prior to the court order, a transaction fee of about Rs 200 was levied on a domestic route ticket by airlines. AI was collecting Rs 775-1,300 as transaction fee on international tickets and this was being remitted to agents. "We are collecting around Rs 150-200 on domestic tickets. It is up to each agent how much he charges,'' said one.
Iqbal Mulla, president of the Travel Agents Association of India, said the order does not ban agents from charging the fee. "Is it wrong for agents to charge a fee for services? The agents will have to shut down their business (otherwise), as many airlines have already stopped paying commission,'' he argued.