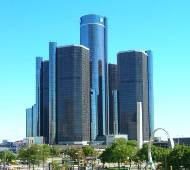 Over 300 workers of General Motors, who were agitating in front of the residence of the company director were detained in Vadodara on Tuesday by the police, Nihir Mehta, general secretary, Gujarat Kamgar Union said.

The company has about 1,500 workers on its roll while 400 odd workers have been on strike since March 16 to press for their various demands.

The agitating
workers were detained when they were demonstrating near the residence of a director of the company located on Vasna road.