No word on appointment of Shagun Kapur Gogia

A day after the YES Bank board met to decide on the appointment of Shagun Kapur Gogia, daughter of deceased co-founder Ashok Kapur, the lender on Friday sought to reinforce its positioning as the "Professionals Bank of India".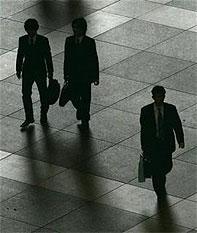 While the bank maintained silence on Gogia's appointment, it announced induction of three of its top management executives on the board. They are: Rajat Monga (senior group president for financial markets and chief financial officer), Sanjay Palve (senior group president and senior managing director for corporate finance) and Pralay Mondal (senior group president for branch, retail and business banking).

In a short statement, the bank said this development was in line with the bank's objective to further build and strengthen the "institutional and professional character of YES Bank as the Professionals Bank of India."

The appointments are subject to approvals from the Reserve Bank of India (RBI) and shareholders of the bank.

At the height of its dispute with the Kapur family, YES Bank has been stressing the point about the bank favouring professionals over family members of promoters.

On Gogia, the bank said yesterday the board decision will be directly submitted to the Bombay High Court on July 1. People close to Gogia said they have heard that YES Bank might propose to appoint her as an "independent director".

But legal experts claimed such a move was not possible as Gogia's mother, Madhu Kapur, holds 12 per cent stake in YES Bank. "To be considered as an independent director, the person along with his or her close relatives should not own more than two per cent in the company,"
said a legal expert.
Madhu Kapur and her two children (Gogia and Gaurav Kapur) had moved the high court earlier this month, claiming their right as co-promoters had been violated. The court had directed the bank to advance its board meeting and consider Gogia's appointment on the board. While today's move surprised quite a few, sources said the appointments were already on the agenda of YES Bank's board meeting scheduled on July 24. The bank had to advance its board meeting to June 27 after the high court asked it to.
Sources said this was not the first time the bank had appointed executive directors on its board. H Srikrishnan, former country head of transaction banking and operations at HDFC Bank, had served as executive director on YES Bank's board between October 2005 and April 2008.
According to people familiar with the development, the move was aimed to strengthen the professional character of the board.
It will also expand the seven-member board, which is considered lean compared with private sector peers.
Monga, alumnus of Indian Institute of Technology and Indian Institute of Management, has been spearheading the financial markets and investment management practices of YES Bank and is responsible for trading and client distribution of foreign exchange, fixed income, derivatives and structured products in addition to balance sheet management.
Palve has more than 14 years of experience in banking and has been leading corporate banking, project finance, structured finance and financial restructuring operations. Mondal, also an alumnus of IIT and IIM, joined YES Bank a year before from HDFC Bank and is responsible for retail and branch banking operations.