The three leading think-tanks-- NCAER, NIFM and NIPFP-- conducting a joint study on the quantum of blackmoney, are likely to submit the report to government by December 2012, Parliament was informed on Thursday.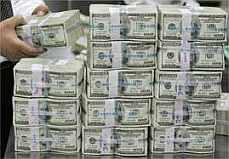 "The study is likely to be completed by December 2012," Minister of State for Finance S S Palanimanickam said in a written reply to the Rajya Sabha.

In March last year, the income tax department had entered into MoU with National Council for Applied Economic Research (NCEAR), National Institute of Public Finance and Policy (NIPFP) and National Institute of Financial Management (NIFM)
for estimating quantum of unaccounted income generated inside and outside the country.
The three institutes were originally scheduled to complete their study within 18 months and submit report by September 2012, suggesting administrative and legal measures to prevent generation of black money.
The think-tanks would also identify important sectors of the economy in which unaccounted money is generated and examine its causes.
The first study on unaccounted money was conducted by NIPFP way back in 1985.