Prime Minister Dr Manmohan Singh is under tremendous pressure from Congress MPs to contain Finance Minister P Chidambaram for attributing Pranab Mukherjee 'regime' for the economic slowdown.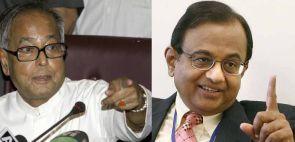 Five senior Congress MPs have communicated to Dr Manmohan Singh, giving illustrations about the services Pranab Mukherjee rendered to the UPA Government and to Congress in particular.

These five MPs have 'exposed' P Chidambaram for misleading the Parliament and also speaking white lies about tenure of his predecessor. They are believed to have told the Prime Minister that 'lies have no feet'.

These five MPs - two from Rajya Sabha and three from Lok Sabha - met Prime Minister in Parliament on Tuesday. And plan to meet Sonia Gandhi after her return from USA.

'How can P Chidambaram criticise Pranab da in Parliament,' questioned the MPs. And these MPs also questioned the silence of Dr Manmohan Singh.

One of the five MPs who
stoutly defended Pranab Mukherjee told this correspondent that Pranab Mukherjee effectively took Direct Tax Code and Goods Services Tax.
The MPs highlighted the work undertaken by Pranab Mukherjee. They pointed out that the government did not take up the GST while Chidambaram was the Finance Minister until 2009.
Action was initiated by Pranab Mukherjee in March 2009 when Department of Revenue made some suggestion in the design and structure.
These five Congress MPs, who met the Prime Minister, said that P Chidambaram has not taken any measures to bring the GST as a constitutional amendment since he became the Finance Minister after Pranab Mukherjee became the President.
There was lack of political consensus on Constructional Amendments to provide the legislative frame work for GST.
Pranab Mukherjee met almost all the Chief Ministers to develop a political consensus.
It was Pranab Mukherjee who introduced GST constitutional amendments in Parliament in March 2011. P Chidambaram, in his budget speech in 2013, however , blamed his predecessor for delays in implementation of GST.