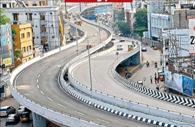 Political instability and violence following the demand to carve a separate state out of Andhra Pradesh has dented the Rs 40,000-crore (Rs 400 billion) Surat-based synthetic textile industry. The industry is losing Rs 5-6 crore (Rs 50-60 million) business daily due to the turbulence.
With shops shut almost everyday in the southern state, the demand for synthetic fabric and finished goods from Surat has also taken a hit and the situation is getting worse, with the festive season of Pongal approaching amid such a crisis, according to industry sources.
Surat, which trades Rs 110 crore (Rs 1.1 billion) worth of synthetic fabric a day, supplies about 10 per cent of the total fabric to Andhra Pradesh.
"Our supplies to Andhra Pradesh have gone down by more than 50 per cent in the wake protests, which have affected business in the state. We are losing Rs 5-6 crore daily since the crisis began in early December," said Devkishan Manghani, general-secretary, Federation of Surat Textile Traders Association (Fostta).
So far, the industry has lost over Rs 100-crore (Rs 1 billion) business and textile manufacturers fear more losses, as there are no signs of a solution in the near future.
"Our supplies to Andhra Pradesh surges by 18-20 per cent around Pongal in mid-January. With protests across Andhra Pradesh, markets find it difficult to carry out their daily functions," he added.
Moreover, as many as 250 transporters associated with the Surat Textile Goods Transport Association (STGTA) have been affected by the political instability surrounding Telangana.
"On an average, 50 trucks used to be dispatched from Surat for Andhra Pradesh everyday. With frequent riots and arson these days, the number has come down to just 10 trucks. Since shops remain shut almost everyday, demand for synthetic textile goods from Surat has dropped drastically," said STGTA president Yuvraj Desale.
Similarly, according to Mahendra Kajiwal, former president of Fostta, the impact of the crisis has been such that many of the synthetic textile manufacturers have cut down production.
"There has been a reduction of 20-25 per cent in production of synthetic yarn, fabric and finished goods due to Telangana issue. Moreover, it is uncertain when the crisis would be over. This has resulted in rise in inventory. For instance, as against 15,000 sarees, inventory has now increased to around 25,000 sarees," said Kajiwal.
STGTA has incurred a loss of Rs 20 crore (Rs 200 million) so far since December 9, 2009.
In fact, Surat synthetic fabric industry is sandwiched between lower demand and higher prices of raw material, which mainly include texturised yarn.
For instance, Surat-based weaving units have been forced to cut down production of synthetic grey fabric by 20-30 per cent. The industry in Surat, which weaves about 30-40 million metres of grey cloth per day, has reduced the production by 10-15 million metres per day.
The Telangana crisis has cost enormous loss to public and private properties in Andhra Pradesh. According to official sources, properties worth Rs 250 crore (Rs 2.5 billion) have already been destroyed by protesters in all the three regions of the state.