Boosted by strong growth in voice minutes, Vodafone India's revenue grew by about 10 per cent to 1.1 billion pound (about Rs 9,388.40 crore) in the quarter ended December 31, 2012.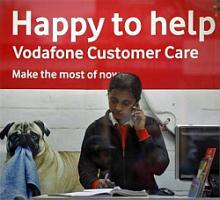 The company had reported revenue of 1.02 billion pound in the corresponding quarter last year, Vodafone, the UK-based parent of Vodafone India, said in a statement.

Service revenue increased by 9.9 per cent, driven by strong growth in mobile voice minutes and a stable competitive environment, it added.

As on December 31, 2012, Vodafone had 147.47 million subscribers in India.

Data revenue grew by 23.8 per cent driven by an increase in sale of data bundles and an increase in 2G data pricing. "As on December 31, 2012, active data customers totalled 33.1 million, including 2.5 million 3G subscribers," it added.

The voice revenue for Vodafone India stood at 785 million pound while data revenue was 94 million pound.

However, Vodafone's global revenue was down 2 per cent at 11.38
billion pound impacted by difficult market conditions in Europe, especially southern parts of the continent.
"Our results continue to reflect very difficult market conditions in Europe. We are addressing this through firm actions on cost efficiency, and continuing to invest in areas of growth potential," Vodafone chief executive Vittorio Colao said.
Vodafone continues to make progress in its 2015 strategy, with good revenue growth in data and emerging markets, the launch of LTE services in another four markets and the acquisition of new spectrum, he added.
In November, the company acquired spectrum in 1,800 MHz band in 14 Indian telecom circles for Rs 1,130 crore (Rs 11.3 billion).
The company said Indian tax authority issued a reminder regarding Rs 11,200 crore (Rs 112 billion) tax liability issue related to the British firm's acquisition of Indian telecom assets of Hutchison Whampoa.
"The group maintains its position...but is engaged in dialogue with the Indian government to explore whether a solution to this matter can be found," it added.