Uncertainty over spectrum and persisting tax issues notwithstanding, telecom major Vodafone India on Wednesday said it remains committed to the Indian telecom market and would invest another $1 billion in 2013-14.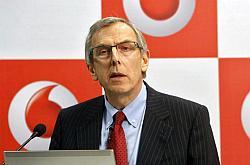 "We are committed and will invest another $1 billion in India in FY'14 for capacity building," Vodafone India MD & CEO Marten Pieters said on the sidelines of an event in Kolkata.

He, however, hinted that investments in India might not continue if the Vodafone Group did not get returns from its investments.

Vodafone Group has invested Rs 81,000 crore (Rs 810 billion) in acquisitions and another Rs 55,000 crore (Rs 550 billion) of capex in the past six years, but the parent did not get adequate returns, Pieters said. "Is this fair?" he asked.

On the 2G spectrum issue, Pieters said, "We are ready to pay market related price."

He said the price for the 900MHz should be benchmarked to 1,800MHz for valuation.

On auction, Pieters said, "We favour auction of unused spectrum, but not for the spectrum which is already in use for existing operations."

Asked what solutions the company was expecting, Pieters said, "We are not unwilling to talk with the government."

He said that the government should not differentiate between 800MHz (CDMA)and 900MHz
spectrum pricing and offer a level playing ground.
Pieters also ruled out the possibility of Vodafone India IPO unless uncertainties for the company ended.
"We all need a more favourable environment," he said.
Reacting to court observations on sharing of 3G spectrum, he said: "We think we are entitled to this roaming pact, though the government clearly thinks that we are not. The matter is in court. So, lets see how it unfolds."
Vodafone said it is not in favour of rolling out 4G services in India soon. "We took a position and it's too early for 4G. 4G is a natural transition for 3G. It also depends on the penetration of smart phones and spectrum allocation," Pieters said.
Vodafone was slapped with an income tax demand notice of Rs 11,200 crore (Rs 112 billion) on its 2007 acquisition of Hong Kong-based Hutchison Whampoa's stake in its Indian telecom business.
Vodafone had written to the Finance Ministry seeking settlement of the tax issue. This follows Finance Ministry's reminder notice to the UK-telcom giant Vodafone in January for payment of tax.
The liability arose following the then Finance Minister Pranab Mukherjee amending the Income Tax Act, 1961 with retrospective effect to undo the Supreme Court judgement that had ruled in favour of the company.