India's largest information technology services company Tata Consultancy Services (TCS) is said to have bagged a multi-million pound contract to support the disclosure and barring services for the Criminal Records Bureau (CRB) of the UK. The deal is expected to be for a period of eight years. For the last 10 years, the services were being powered by UK's Capita.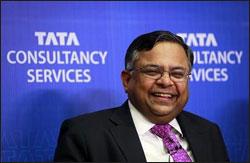 According to a report, the UK's Public and Commercial Services Union, which represents Capita's CRB staff, said the Home Office had indicated in July its "intention to award" the contract to TCS. For TCS, the UK's contribution to its revenue was 17 per cent for the first quarter of FY13.
Sources said the contract would get signed in a few days. When contacted, TCS refused to comment. However, Capita, on its website, said it had not been picked by the Home Office for the contract. "Capita is disappointed not to have been selected by the Home Office.
Whilst the date of the full handover of services to the new supplier has yet to be finalised, the CRB has advised Capita of its intention to extend the current CRB contract with Capita beyond the current expiry date of 31 March 2013, and the terms of this extension agreement are now being finalised," said the company.
While the deal size could not be confirmed, Capita that had been servicing the contract for a total contract value of Pound 400 million.
"TCS has invested a lot in the market and also in the government segment. Especially the senior management team that looks into the government segment. The other key leverage point is that they have invested in creating a back-end capability in the local market," said Vikram Gulati, managing director, of UK-based QS Advisory.
By winning this deal, TCS confirms that its investment in the UK market is finally paying off. Last year, it had bagged a 10-year, £600-million deal from Personal Accounts Delivery Authority to administer the NEST scheme in Britain, a national pension savings one - covering services such as employer participation, member enrolment, collection and reconciliation, cash management, accessing pension savings and administration of accounts.
It had also won one of the biggest deals in UK when it signed $2.2 billion contract for 15 years with Friends Life. With Friends Life, Pearl Assurance Group (2006), Sun Life Financial and Phoenix Group and Old Mutual, it is said to be the second largest insurance business process outsourcing (BPO) provider in the UK.
Gulati also adds that the one difference that TCS brings to the table is the capability to build a product platform for clients. "In some of the other contracts that TCS has managed to win here earlier has a component to either create a new platform or modify the existing one to the customers need," added Gulati.