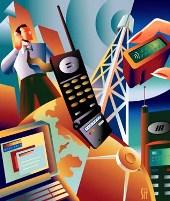 The move gives opportunity to the PSUs to expand in the face of dipping revenue and market share.

Bharat Sanchar Nigam Ltd has started talks on synergising operations with Mahanagar Telephone Nigam Ltd, which offers telecom services in Delhi and Mumbai.

The first area that has been identified is the high-margin enterprise business.

The move could be a precursor to the merger of the two state-owned companies.

BSNL runs fixed line and mobile services throughout the country, except in Delhi and Mumbai.

For the first time, BSNL will also open up its tower base to private players to generate a new stream of revenues.

It has about 40,000 towers all across the country.

"We have signed initial agreements with many private players for renting out towers. It will help us increase revenues," BSNL chairman and managing director R K Upadhyay told Business Standard.

He, however, refused to share the details.

The move to rent out towers is in BSNL's interest, as there are already several infrastructure providers who will lease out towers to the telecom players, if not BSNL, he said.

The development is significant as BSNL has towers in remote areas that could be used by other companies to expand. Most new operators are not looking to invest in towers, while most incumbents such as Bharti Airtel and Vodafone-Essar have spun off tower businesses.

To gain market share and improve revenue, BSNL has decided to focus on four areas — mobility, broadband, enterprise business and infrastructure sharing (leasing).

"We have started discussions with MTNL to exploit synergies for mutual benefit.

For instance, there can be rationalisation of traffic," he said. He did not rule out merger.

"The merger of BSNL and MTNL can be considered, but only at a later stage," he said.

The department of telecommunications has been considering such a move for two-three
years.
It has not been able do so due to opposition from employee unions and because MTNL is a listed entity while BSNL is not.
MTNL Chairman and Managing Director Kuldeep Singh,  confirmed the move. "This could become a significant part of our business."
It is already a key area for most telecom companies such as Bharti, Reliance Communications and Vodafone-Essar.
Under enterprise business, BSNL offers fleet management and customer services, among others.
MTNL, on its part, plans to appoint a consultant for a brand revamp.
It has already invited expressions of interest. The contract would involve development, roll out and management of the new brand, said a senior MTNL official.
Increased competition and dipping rates have hit the sector.
But BSNL and MTNL have been losing revenue and market share at a faster pace than others. The two together have only 12 per cent of the mobile market. For the first time since its inception in 2000, BSNL posted a loss (of Rs 1,823 crore or Rs 18.23 billion) in financial year 2009-10.
MTNL's loss was Rs 1,099.5 crore or Rs 10.99 billion in the fourth quarter ended March. Its net continued to be dragged down by retirement benefits, an increase in dearness relief for pensioners and wages.
BSNL and MTNL also could not take advantage of third generation mobile services, where both were allotted spectrum one year before the private players.
Both have also been hit the hardest by mobile number portability.