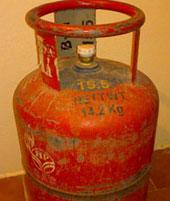 In a bid to prevent rising kitchen fires, a group of young innovators, technologists and engineers has developed a cooking gas alarm and SMS system to prevent accidents due to leak either from stove or rubber pipe.
Even when no one is at home, the resident gets an SMS on his or her mobile phone about the impending danger in case of a gas leak with the help of the innovative gadget put together by a Bhubaneswar-based company 'RoboticWares'.
''We are working to make common man's life more simple and secure. We are targeting military, medical, consumer and industrial sector as a potential market of robots," says CEO of RoboticWares, Kushal Nahata.
Claiming that some 7,000 people suffer burns every year due to cooking gas leak, he said fire can be prevented with the help of remote gadgets which can help switch off the cylynder after getting an alert.
Another significant addition to the company's kitty of innovative products is Remote Video Surveillance known as 'Far Eye' which provides a complete software solution for office or home security, he said.
"Far eye monitors home or office round the clock, captures motion event using webcam and saves into compressed video clips. It enables one to remote video surveillance from anywhere in the world,"  said the chief technology officer of RoboticWares, Gaurav Srivastav.
Similarly, RoboticWares has developed University Automation System known as Unimator, used by around 10,000 students, enabling video lecturing, assignment system and storing complete information of college on web.
Leading educational institutions like HDF School of Management, Kalinga Institute of Industrial Technology (KIIT) and a college of Architecture have been successfully using Unimator helping them streamline administration and a host of other activities, Srivastav said.
Besides developing new innovations, RoboticWares imparts training programmes on Embedded System and Robotics to the students across the country.
It also regularly holds certification training programmes for professionals, students and embedded developers under a package called robotics Certification Standards Alliance (RCSA).
"RCSA is a national alliance in conjunction with several top robot manufacturers in the world to provide standardised industrial robotic training and certification," said COO of RoboticWares, Gautam Kumar.