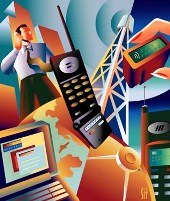 Telecom operators would be fined Rs 5,000 for each complaint of unsolicited commercial communication originating from their networks, the Telecom Regulatory Authority of India said on Thursday.

The regulator said the phone connections of the firms involved in such activities would be disconnected if rules were flouted by them or on their behalf.

"In cases where the unsolicited commercial communication contains reference to another telephone number or an entity such as banks, insurance companies or builders for which the commercial transaction has been solicited, the telecom resources issued to the subscriber for which commercial transaction has been solicited shall be disconnected across all service providers," a release from Trai said.

Rahul Khullar, chairman of Trai, said telecom providers were deliberately encouraging bulk SMS behavior through various schemes.

According to the regulator, a large number of complaints relate to calls or messages received by
consumers on behalf of banks, insurance companies and builders.
"If on verification of a complaint, it is found that the UCC has been sent by a subscriber not registered as a telemarketer, the service provider shall be liable to pay financial disincentives of Rs 5,000 on each complaint," the release said.
The authority has also asked telecom providers to file details of all bulk connections provided during a month by the 15th of the subsequent month.
According to latest information, 46,402 complaints are on an average received every month by service providers regarding pesky calls and messages.
A total of 556,834 complaints were received in the past one year, according to a reply in Parliament.
Last year, Trai had banned service providers from offering concessional rates for SMSes over 100 in number from the same number, to ensure customers were not disturbed by pesky calls or SMSes.
In May, Trai had issued a new norm, charging a five-paise termination charge on each transactional SMS and two paise on each normal SMS on the operators from whose networks the message originated.