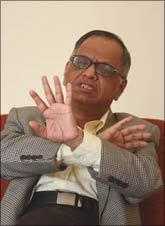 The three aspects of ensuring success for any entrepreneur are innovation, ability to use innovation to create service and products that add value to customers, and the ability to communicate the value to customers, according to Infosys chairman N R Narayana Murthy.
Murthy, while launching a new marketing book, No Marketing Money -- authored by Jessie Paul, a former global brand manager at Infosys -- advised entrepreneurs to "think of innovation and marketing as two most important instruments for creating a wonderful organisation and tremendous brand equity.
Using innovative platforms that do not cost too much money could help entrepreneurs create brand equity, he said, sharing his own experience of building Infosys from a little-known brand to a globally recognised brand.
He said during a survey conducted in 1992 with prospective employees on the company they would like to join, zero per cent opted for Infosys. This dismal picture drove him to take a vow to change it. "We will be number one in India in five years," he had told his colleagues then.
His confidence was met with some scepticism by colleagues who wondered how a small company with few resources could hope to compete with richer and bigger companies, he recalled.
"We will do new unusual things," he had told his colleagues. "We will do what other companies did not do," he said reminiscing over the transformation of a company to a leading global software firm.
"Think of new ideas and think of platforms that do not cost too much and that will get people to talk about you, magazines to write about you," he said, adding that communicating unusual ideas attracts people.
On her book, Jesse Paul said it was a guide for companies, especially start-ups, to establish themselves and grow rapidly on a relatively limited budget. It provides actionable insights and advice on how to steer as well as manage brands.
Also present on the occasion was Girish Paranjpe, joint CEO, Wipro. He said: "Clear positioning and innovative marketing are required if more Indian firms are to play a role on the global stage."