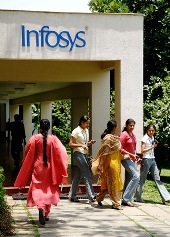 Domestic institutional investors, caught napping in early January when shares of software exporter Infosys rallied on better-than-expected December results, have done much better this time.

Many fund managers at domestic institutions had cut their exposure to Infosys shares ahead of the March quarter earnings.

The results, announced on Friday, eroded a sizeable portion of the gains made by the stock in January-March.

Analysts said investors could be looking at Infosys shares more as a trading bet, rather than a buy-and-hold stock, which it has historically known to be.

The stock had returned as much as 30 per cent in the March quarter and hit a 52-week high when the benchmark Sensex declined.

The stock fell 21 per cent on Friday, to the levels it was trading in early January.

"Infosys has turned out to be largely a trading bet. Lots of institutions were selling the counter during the previous quarter (when the stock was rising)," said Sudip Bandyopadhyay, managing director & chief executive officer of Destimoney Securities.

Various mutual fund managers raised Infosys holdings in January by as much as one per cent of their scheme corpus, according to Securities and Exchange Board of India data, after the information technology major's
December quarter results surprised the market.
Foreign institutional investors have been more loyal to Infosys than DIIs.
This change in DIIs' investment strategy in Infosys assumes significance, as the stock was considered a barometer of India's equity markets.
"It's quite a possibility that investors took a short-term betting trade on Infosys. That's generally the case now," said U R Bhat, managing director, Dalton Capital Advisors.
"Amid the global recession, it is unlikely for IT companies to go very far.
"Moreover, 10-15 per cent stock movement either way on Infosys' result day is something investors are very uncomfortable with, and there is absolutely no clarity (on earnings and guidance)."
Bhat was echoing the views of various fund managers, who privately claim they have little idea about the company's immediate growth prospects.
In seven of the nine previous occasions, the stock has fallen on result day.
"Frankly speaking, I cannot comprehend what's going on in the company," said the chief investment officer of a large fund house, who did not wish to be named.