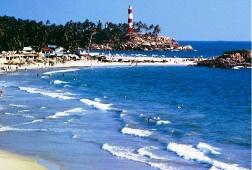 After its pioneering record in achieving cent per cent literacy, Kerala is set to emerge as a role model for the country in computer literacy and e-governance with a host of state-sponsored programmes underway in the state.
While schemes like 'Akshaya' have been able to impart basic knowledge of computers to a large number of people down the rungs of society, at the government level several projects to create inter-departmental as well as government-public linkage are under way.
"The ultimate aim of these initiatives is to ensure better delivery of service to people. They are going most vibrant," said Kerala's principal IT secretary Ajay Kumar.
"Securing this goal requires a two-pronged approach. First, there should be inter-linkage in the government. Also, people should be empowered to make use of the services," he told PTI.
According to professionals running projects like IT Mission, Kerala, and IT@education, the state has certain 'historical strengths' to emerge as a knowledge-based society like its universal literacy and education and impressive social parameters such as health care. The government had already created a well-populated data centre with over 200 servers and 100 plus websites and web based applications.
Soon, a wide area network linking civil stations in all 14 districts and the government secretariat and departmental head offices would be created.
Another major scheme underway is creation of State Spatial Data Infrastructure, which would offer geospatial data and metadata to wide agencies, Ajay Kumar said.
SSDI would provide a basis for spatial data discovery, evaluation and application for users and providers in all levels of government, commercial sector and academia and people in general.
The Geo portal would allow users spread across the internet to view and query spatial information and related maps.
It will also serve as a web-gateway to access geospatial data with facility to search and locate enabling end-users to download and share the information as per their needs.
Another area where IT is going to be used is complaint redressal in the government. To begin with, a 'complaint registry' would be set up at the central executive level in 30 departments, where people could post their grievances and receive responses within a specified time-frame.
Also, a project to provide official e-mail to government employees has been launched. "It is not personal e-mail but an official e-mail address. This would make the employees respond to queries as part of his official duty," Ajay Kumar noted.
The basic aim of any state IT initiative is to make the government services easily accessible to the people in terms of time as well as pace.
To achieve this, as many as 40 standards forms of the government had been e-formated, which include those for obtaining birth and death certificates.
Kerala's state-specific IT initiative has also reckoned the huge potential of mobile phone as a communication tool and development of mobile application technologies in a big way world over.
"This area is of special significance to a state like Kerala, where mobile phone penetration at 65 to 70 per cent is much higher than the national averate of 42 per cent", Ajay Kumar said.
At the school level, the government has set an ambitious target of imparting ICT education to 1.6 million students a year under the it@education programme by enhancing the intellectual productivity of teachers and curricular comprehension of children.
The work has already seen four million students and 0.2 million teachers being empowered in ICT through a network of 200 master trainees.
The programme is also linked to the EDUSAT network and has associated with BSNL to provide internet broadband connectivity to all high schools.
Designed to bridge the 'digital divide' at the grassroot level, modules of Akshaya has been set up at grassroot level within two kms of every household and networked leveraging entrepreneurship.
Initially conceived for Malappuram District a few years back, it has emerged a statewide movement for rural empowerment and economic development.