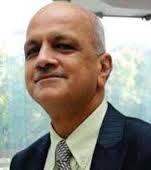 Former telecom and information technology secretary R Chandrasekhar, appointed chief of IT sector body National Association of Software and Services Companies, expects to join office from October.

Nasscom's current president Som Mittal's term expires in January. However, Chandrasekhar, expecting to get the necessary approvals from the government soon, will start work from next month to get familiar with the organisation.

"There are so many issues facing the industry currently," he told Business Standard recently.

"It is also required to have a smooth transition," he added. Chandrasekhar will have a head-start of about four months before formally taking over from Mittal.

Chandrasekhar joins when despite prospects of the $100-billion sector being brighter after a US recovery, it is battling challenges posed by the US immigration Bill.

Looking at the sector's growth across domains such as product companies, Internet-focused ventures and start-ups, Nasscom is also trying to broaden focus.

New headquarter

The not-for-profit organisation is shifting its headquarters to Noida.

It's own property, this building will house the offices of Nasscom, Nasscom Foundation and of the Data Security Council of India, a joint venture between the Union government and Nasscom.

The organisation is also planning to build an incubation lab in the new facility.

Nasscom recently launched the 10,000 start-ups initiative, supported by Google and Microsoft.
Image: R Chandrasekhar