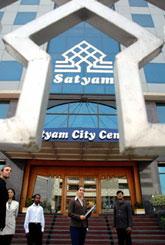 A United States firm has moved the Indian Supreme Court for permission to use the confessional statement of its scam-tainted joint venture partner Satyam's founder Ramalinga Raju in its shareholding dispute.
A bench comprising justices P Sathasivam and HL Dattu issued notice to Satyam (now Mahindra Satyam) and sought its response and asked all the parties concerned to file their submissions by July 13.
The Michigan, US-based petitioner Venture Global Engineering, which had an equal JV with Satyam, requested the apex court to set aside the HC order which had dismissed its petition seeking permission to file additional written submissions in the wake of Raju's confession of cooking the books of the IT firm he founded to the tune of Rs 7,000 crore (Rs 70 billion), on January 7, 2009.
Earlier, allowing a Satyam appeal, the high court on February 19, 2010 held that the confession made by Raju could not be used by the US-based firm to challenge arbitral award.
Venture Global and Satyam had a 50:50 joint venture Satyam Venture Engineering Services. But later on a dispute arose between them regarding shareholding agreement which was referred for an international arbitration.
On April 2006, the arbitrator gave an award in favour of Satyam and directed the Michigan-based firm to transfer its entire shareholding in Satyam Venture Engineering in favour of the scam-hit firm.
Earlier, Venture Global challenged the arbitral award in a Secunderabad court, which allowed its plea to take on record all subsequent events following Raju's confession of fraud.
Satyam contested in the AP high court which set aside lower court order. Following it, the US firm approached the SC contending that the HC erred while not allowing to amend its plea on the grounds of time limit and it was against the rules laid by the SC in some other cases.
"By the impugned judgment, the HC laid down an inflexible and oppressive rule relating to amendment which is opposed to the SC cases on the point," submitted the US-based firm in its petition.