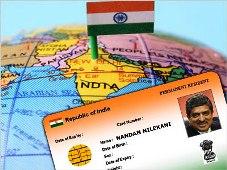 The Unique Identification Authority of India has directed inquiry into complaints of alleged duplication of Aadhaar numbers.

"The contact centre of UIDAI had received two complaints dated July 25, 2012 and July 31, 2012 regarding duplication of Aadhaar.

"The complaints were forwarded to the respective authorities for taking necessary action. Since it is related to some other residents it cannot be shared," the UIDAI said in reply to an RTI query.

The UIDAI is also looking into six complaints regarding alleged misuse of personal data while issuing the Aadhaar numbers to individuals.

The complaints were received between May 2011 and February 2012, it said, adding that authorities concerned were looking into it.

The UIDAI is mandated to issue every citizen a 12-digit unique identification number 'Aadhaar' linked to the resident's demographic and biometric information, which they can use to identify themselves anywhere
in the country, and to access a host of benefits and services.
The authority said that it has also blacklisted an operator and a supervisor in Andhra Pradesh for their alleged involvement in fictitious enrolment for Aadhaar.
"UIDAI has not received complaints about fake Aadhaar number.
"However, UIDAI initiated inquiry with reference to a news article published in a local daily about fictitious enrolment of Aadhaar.
UIDAI has suspended and blacklisted culprit operator -- Boosi Veeranjaneyuda -- and supervisor -- Mala Anand Kumar.
"An FIR has already been lodged against the aforesaid employees by the enrollment agency concerned in the Anantpur district of Andhra Pradesh," the authority said in reply to the RTI query filed by PTI.
The UIDAI has framed information security policy and guidelines to ensure safety of individual data being collected in the form of security handbooks, it said.
About 10.19-crore (101.9-million) Aadhaar numbers have been issued between January and October, 9 2012 by the UIDAI.