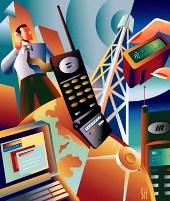 The Department of Telecommunications has moved a proposal to disallow telecom companies and their promoters from holding equity stake in another company which is a competitor in the same service area.

This revised clause will be included in the upcoming Unified Licensing regime.

In a recent note, the DoT Committee on Unified Licensing has also defined who constitutes a promoter. It would mean a legal entity, which holds 10 per cent or more equity in a company that which operating permits.

However, the Centre, financial institutions and scheduled banks will be excluded from this clause.

The proposal has come after the modifications that were proposed based on the recommendations of the DoT committee.

According to the DoT note, no licensee company or its promoters directly or indirectly shall have any equity holding in another company who is a competitor in the same service area.

A competitor, according to the DoT committee, is another licencee company which provides access services in the same service area.

According to the proposal, telecom firms, which currently have cross-holding, will have to abide by the new norms within a period of one year from the date of the grant of the proposed UL.

The existing Unified Access Service Licence (UASL) norms allow promoters of a telecom company to have up to 10 per cent equity stake in another firm in the same circle.

Under Clause 8 of the UASL licence, no single company or legal person, either directly or through associates, can have 'substantial equity holding' in more than one licencee company in the same service area for the basic, cellular and unified access services.

Substantial equity here means an equity of 10 per cent or more.

Currently, Vodafone Plc, which has a majority stake in Vodafone India, holds a 4.4 per cent stake in Bharti Airtel.

Essar, which had a 33 per cent stake in Vodafone-Essar and later sold to the British telco, reportedly had more than 9.9 per cent stake in Loop Telecom.
A few years ago, the Tatas also had a 48 per cent stake in Aditya Birla group's Idea Cellular, which in turn had controlling stake in Tata Teleservices. The Tatas later sold their stake in Idea to the Aditya Birla group.