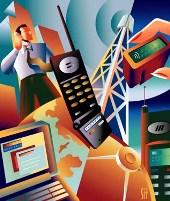 The department of telecommunications on Thursday announced the setting up of a one-member committee headed by a retired Supreme Court judge, Shivraj V Patil, to review internal procedures and policy in the allocation of licences and spectrum from 2001 to 2009.
The committee will submit its report in four weeks.
The move is part of newly-appointed communications minister Kapil Sibal's attempt the clean up DoT after allegations of wrongdoing in granting licences forced predecessor A Raja to resign his ministerial position.
Raja, whose residences were searched by the CBI on Wednesday, faces investigation on allegations of irregularities in the allocation of mobile licences and spectrum.
"The committee will examine the appropriateness of procedures by DoT in the issuance of licences and allocation of spectrum during the period 2001-2009," Sibal told reporters on the sidelines of the India Telecom 2010 summit in New Delhi.
The sweep of the review will include decisions taken under the National Democratic Alliance government, when Pramod Mahajan and Arun Shourie held the telecom portfolio.

It is in line with the Supreme Court's observation on Wednesday that the CBI's 2G spectrum scam probe should go back to 2001.

Responding to Sibal's announcement, the BJP's Arun Jaitley, leader of the Opposition in the Rajya Sabha, said: "The BJP is ready for any inquiry that the government decides, from any date."

He added: "The government is running away from a joint parliamentary committee probe. The question is not only about spectrum allocation, but also about governance."

The committee will identify instances of a lack of transparency and lapses at
policy and procedural levels, Sibal said, adding that the terms of reference of the committee would be finalised soon.
It will also determine whether procedures were fair and transparent, keeping with the principles of justice and whether there was any violation of the policies laid down by DoT.
The report will suggest remedial measures. The panel will have the right to call for records and desposition by DoT officials, the minister added.
Asked about the objective of such a committee when the comptroller & auditor general has already submitted its report, Sibal said the government's auditor did not go into possible procedural lapses.
"CAG is a constitutional body; it has recommendatory authority. (CAG has) given the report, which is being examined by a parliamentary panel," he said.
Sibal said DoT will give all stakeholders a level playing field and come out with a fresh policy after thorough discussions.
As part of the operation to clean up the telecom mess, DoT is in the process of serving notices to telecom firms found ineligible for licences or for failing to meet rollout obligations.

"We will complete sending notices to 119 licensees by this week," Sibal told reporters.

DoT will also serve showcause notices to 85 new licensees, asking why their licences should not be cancelled for misrepresenting facts at the time of application.


The firms will be given 60 days to respond.