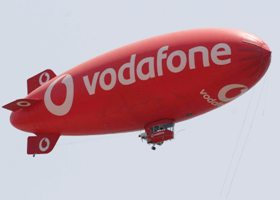 The Supreme Court on Monday asked Vodafone LLC to deposit Rs 2,500 crore (Rs 25 billion) and a bank guarantee of Rs 8,500 crore (Rs 85 billion) in its ongoing case in New Delhi in which the UK based telecom giant has challenged capital gains tax of Rs 11,000 crore (Rs 110 billion) from its acquisition of Hutchison shares.

The bench headed by Chief Justice S H Kapadia directed Vodafone to deposit Rs 2,500 crore within three weeks and a bank guarantee of Rs 8,500 crore within 8 weeks.

The bench, which also comprised justices K S Radhakrishnan and Swatanter Kumar, also held that if the case goes in favour of Vodafone then the govt will have to return the amount to the telecom giant along with interest.

The apex court would start its final hearing in this matter from Feb 5, 2011.

The apex court also directed the director general of international taxation to file an undertaking before the court that the government would refund the amount along with the interest to Vodafone if the
UK based telecom giant succeeds in the case.
The Supreme Court on October 25 adjourned the hearing after Vodafone sought time to go through its tax notice sent by the IT department and to file its reply.
Following the instructions of the apex court, the tax deducted at source officials of the Income Tax department had fixed Vodafone's liability on the overseas transaction.
The department held Vodafone liable for not deducting tax at source on capital gains accruing to Hutchison and claimed over Rs 11,000 crore (Rs 110 billion) in tax and as a penalty on the 2007 deal.
Hutchison's telecom business in India comprised a substantial chunk of its overall business and the deal enabled Vodafone to enter the Indian market in a big way.