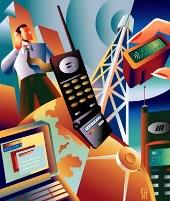 Use of cell phones is increasing at an incredible rate in Delhi with the number of mobile connections in the city reaching 4.25 crore (42.5 million) against itspopulation of around 1.70 crore (17 million), implying that on an average every Delhiite has at least two phones.

The number of mobile phone connections in 2010-11 was 3.88 crore (38.8 million) which increased by 37 lakh to reach 4.25 crore (42.5 million) in 2011-12, as per Delhi government statistics released by Chief Minister Sheila Dikshit on Tuesday.

The number of mobile connections in the entire country is estimated to be around 90 crore (900 million).

In 2009-2010, the number of connections in Delhi was 2.82 crore (28.2 million).

The number of fixed line phone connections in Delhi has also risen marginally from 28.38 lakh (2.83 million) in 2010-11 to 29.12 lakh (2.91 million) in 2011-2012.

The figures have been published in the Delhi Statistical Handbook 2012.

As per the statistics, around 500,000 vehicles were registered during 2011-12 taking the total number to 74.38 lakh (7.43 million) vehicles against 69.32 lakh (6.93 million) in 2010-11.

The number of cars and jeeps in 2011-12 increased to 23.43 lakh (2.34 million) from 21.73 lakh (2.17 million) in 2010-11.

On use of public transport, the figures showed that around 162 crore passengers travelled on Delhi Transport Corporation buses during 2011-12.

Around 111 crore (1.11 billion) passengers had travelled on DTC buses during 2010-11.

Delhi's per capita income, which indicates an average earning of a person, is the third highest in the country with Goa having a per capita income of Rs 1,32,719 topping the list, and closely followed by Chandigarh at Rs 1,20,912.

In an indication of sustained economic prosperity, the per capita annual income in the city has increased by over 16 per cent to Rs 1,75,000 in 2011-12
compared to the previous fiscal, which is three times the national average and second highest in the country.
The per capita income of people in Delhi at current prices without factoring in inflation has been estimated at Rs 1,75,812, which is a rise of Rs 25,159 from Rs 1,50,753 in 2011-12, according to the statistics.
While Goa topped the list of per capita income, Haryana with per capita income of Rs 1,09,227 has occupied the third position.
The national average has been worked out at Rs 60,972.
On the basis of constant prices, the per capita income in Delhi was estimated at Rs 1,19,032 in 2011-12, a jump of Rs 10,156 compared to Rs 1,08,876 the previous fiscal.
Dikshit said the literacy rate was recorded at 86.34 per cent.
The literacy rate among males is 91.03 per cent while it was recorded at 80.93 per cent for females.
As per the data, a total of 33,40,538 families are staying in Delhi out of which 68 per cent have their own houses whereas 29 per cent are putting up in rented accommodation.
At least 30 per cent families are putting up in two-room accomodation.
Around 44 per cent households have four members in their families while 20.4 per cent have five members and 7.6 per cent comprise two members.
According to the statistics, 20.7 per cent households have their own cars.
As per the data, 99.1 per cent households have electricity connections while tapped water supply is available to 81.33 per cent houses. Every Delhiite consumes 50 gallons per day.
The generation of water in Delhi was 847 MGD in 2012.
It said 89.5 per cent families have toilet facilities within their dwelling units.
As per the handbook, 88 per cent households in the city have TV sets.