The World Bank on Thursday said Wipro is now eligible to apply for becoming a vendor, as the four-year ban imposed on the software major ended this month.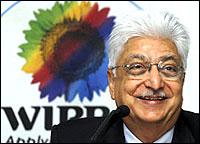 "Wipro has served their full four-year sanction period (June 13, 2007 to June 12, 2011) for the sanctionable practice of providing improper benefits to Bank staff," a World Bank spokesperson told PTI from Washington.

The multilateral lender had banned Wipro in June 2007 from doing business with the group under its corporate procurement programme.

The ban, however, came to light only in January 2009.

Wipro had denied allegations of providing improper benefits to Bank staff.

The spokesperson said Wipro till date has indicated its ongoing interest in doing business with the World Bank, "but they are not in discussions with us".

"Wipro has not reapplied for vendor status with the Bank; however, should they do so, the Bank's own vendor registration process will evaluate their eligibility with an appropriate level of diligence applied to the issue of governance," he said.

Queries to Wipro on whether the company is interested
to become a vendor again remained unanswered.
"Our inability to get future business from the World Bank will not adversely affect our business and results of operations," Wipro had said after the debarment was made public.
The World Bank had banned Wipro after finding that the company was "non-responsible" under the group's vendor eligibility policy.
In the latest list of "non-responsible vendors", there are eight Indian entities, including Satyam Computer Services and Megasoft Consultants.
Satyam has been debarred for a period of eight years, starting from September 22, 2008, while Megasoft's four-year ban began from December 10, 2007.
Other entities named as "non-responsible vendors" are HariOm Interiors, Litura Electrical Technologies, Mehta Associates, Raj Furniture and Vishal Wood Works. All of them have been banned for a period of three years starting from January 12, 2010.
Another firm Puran Kumar Architects has been debarred from the same date, but for a period of four years.
According to World Bank website, the determination of non-responsibility is made through an administrative process that permits the vendor to provide information showing that they are responsible.