Demand for 1,800-MHz weak but govt secures a combined Rs 42k cr on Day-1

On the first day of the government's much-awaited telecom spectrum auction, the Mumbai circle on Monday received the most aggressive bids for 900-MHz airwaves, while Delhi and Kolkata were close behind. At the end of the seventh round, the average bid price for the three circles was 33.99 per cent higher than the reserve price. Participants' response to the 1,800-MHz airwaves, however, remained relatively muted, with only one circle, Gujarat, seeing demand higher than quantity of spectrum on offer.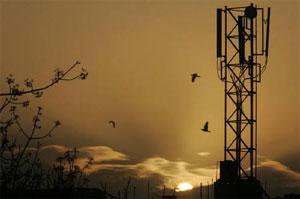 The bidding price for 1,800-MHz airwaves exceeded the base price by 3.9 per cent in the Gujarat circle, 7.9 per cent in Bihar and 5.9 per cent in Uttar Pradesh (West).

Going by Monday's provisional winning price (the last bidding price), the government has already secured Rs 42,000 crore (Rs 420 billion) in earnings from the spectrum auction, about 11 per cent more than the value of the entire spectrum at reserve price. Given that companies pay in deferred mode, the government has already made Rs 11,784.49 crore (Rs 117.84 billion), higher than its Budget target of Rs 11,343 crore (Rs 113.43 billion).

In Mumbai, the last bidding price at the end of the seventh round was 44.5 per cent higher than the base price, while the increase was 38.22 per cent in Kolkata and 19.26 per cent in Delhi.
The demand for 900-MHz spectrum in the Mumbai circle exceeded the 16 MHz put on the block by five MHz; in Delhi, the bidding took place for just the 16 MHz on offer, while the demand in Kolkata appeared to be one MHz less than the 14 MHz being auctioned. The government's assured earnings from sale of 900-MHz spectrum at the end of Day-1 stands at Rs 16,858.80 crore (168.58 billion).

For 1,800-MHz spectrum, on the other hand, the demand looked tepid. Gujarat, for which demand exceeded the 60 blocks offered (of 200 KHz each) by 11 blocks, was the only exception. Maharashtra and Bihar, too, received good response in terms of bidding value but the overall demand in these did not exceed the offered quantity.

According to a top telecom executive, bidding for 1,800-MHz spectrum could be more aggressive after airwaves in the 900-MHz band are sold out, as telcos would have a clearer idea of how much spectrum they would require in the former band.

Telcos had earlier predicted that bidding for 900-MHz spectrum would be fierce, especially with Mukesh Ambani-controlled Reliance Jio's entry in the fray. Incumbents Bharti Airtel, Vodafone and Idea Cellular were already in race. According to the current trends and assuming every participant bids only for one block of five MHz in the 900-MHz band, there will be four bidders for the three slots in the Delhi, Mumbai and Kolkata circles.

In Delhi, both Bharti and Vodafone are expected to bid aggressively to retain at least part (they had eight MHz) of the 900-MHz spectrum they hold for last 20 years. Idea Cellular, which wants to consolidate its hold on the market, is also likely to try to get more spectrum.

For Reliance Jio, a combination of airwaves in the 900-MHz and 1,800-MHz bands is going to be key to launching potent voice-cum data services and taking on rivals.

For Reliance Jio, a combination of airwaves in the 900-MHz and 1,800-MHz bands is going to be key to launching potent voice-cum data services and taking on rivals. These reasons are expected to push up auction prices in Kolkata, where Vodafone and Airtel would like to retain their 900-MHz spectrum.

Bharti Airtel has 900-MHz spectrum in Delhi and Kolkata, but not in Mumbai. According to analysts, this is one of the key reasons for the company lagging behind Vodafone in subscriber base in the city — Bharti's subscriber market share in Mumbai is 14.08 per cent, compared with Vodafone's 23.35 per cent.
Besides, like Reliance Jio, Bharti Airtel could also get an edge in the data space by combining 900-MHz and 2,300-MHz airwaves — it already has 2,300-MHz spectrum in Delhi, Mumbai, Kolkata. It is also helped by the fact that Loop Mobile has decided not to participate in the auction.

The dark horse, of course, could be Idea Cellular, which might want to pick up the more-efficient 900-MHz spectrum to consolidate its operations in the Delhi and Mumbai circles, where its share in subscriber base as of October 2013 was only 12.77 per cent and 11.11 per cent, respectively.

In the 1,800-MHz band, high demand has mostly been seen only in the circles where spectrum availability is very limited. For instance, only 2.4 MHz of spectrum is available in the UP (West) circle, while only eight MHz is up for grabs in UP (East), 12 MHz in Gujarat and 2.4 MHz in Bihar.
In Gujarat, a lucrative market, many of the incumbents would be looking to pick at least one block of five MHz spectrum. In most other circles, such as Delhi and Mumbai, there is plenty of spectrum available in the 1,800-MHz band. The Supreme Court had on Sunday cleared the decks for Monday's auction of spectrum in the 900-MHz and 1,800-MHz bands, refusing to grant a stay on the proceedings.
Though the Court admitted a petition of Bharti Airtel, Vodafone and Idea Cellular against a Telecom Disputes Settlement and Appellate Tribunal order that had rejected their plea for extension of licences, it denied the operators any interim relief.