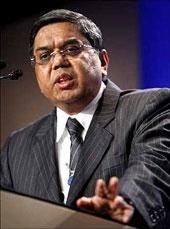 Indian IT giant Tata Consultancy Services, telecom major Bharti Airtel and wind-turbine maker, Suzlon are among the global firms that have high sustainable development standards, a report by leading Swiss lender, Bank Sarasin, has said.
The study, conducted among 360-odd emerging market companies, found that a third of these firms have high rating in terms of sustainability, which also implies that they offer more attractive returns to investors.
"These companies are better equipped for the forthcoming challenges and this will be reflected in lower risks and superior return opportunities. This makes them very attractive to investors," sustainability research analyst, Andreas Holzer, said in the study.
Other Indian firms that have the highest level of sustainability standards and are mentioned in the report include India's largest manufacturer of irrigation plants, Jain Irrigation and leading IT-firm Infosys Technologies.
According to the survey, the number of firms that have socially responsible production of goods and services with maximum resource efficiency is higher than that in the developed countries -- at a little over 50 per cent.
However, even in emerging markets like India and China, a sufficient number of companies can be found eligible for sustainable investment, it said.
Other world firms, which have found a place in the list include world's largest cement manufacturer Cemex of Mexico, South African mining firm Lomin, pharmaceuticals company Aspen Pharmacare, and South African Nedbank.
The survey has assigned the top rating to Brazil's largest cosmetics company, Natura Cosmeticos, as it consistently uses plant-based raw materials and takes environmental and social considerations into account in procurement.
The report also observes that rapid economic growth in the emerging markets like India is likely to cause major environmental and social risks, like excessive depletion of natural resources, in the long-term.
Apart from a rise in the carbon dioxide, rapidly growing emerging market economies also face major challenges in the fields of democracy and political stability, labour rights, health, education and social security systems, it said.
Bank Sarasin has a subsidiary in India: Sarasin Alpen (India) Private Ltd, which provides financial consultancy service in the domestic market.
Image: Suzlon chairman Tulsi Tanti.