Tata Sons-owned Infiniti Retail, which runs electronics and durable stores under the Croma brand, is expecting a turnover of Rs 2,000 crore (Rs 20 billion) from its newly launched online venture in two years. Cromaretail.com, the chain's e-retail venture, on Monday went live in 319 cities across 24 states.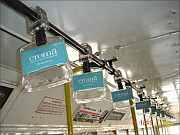 "Since the launch of Croma five years ago, we have seen the retail industry evolve into being an integral part of our consumers' lives and the launch of our e-commerce venture is a natural progression towards delivering growth and trusted service to our users," said R K Krishna Kumar, chairman of Infiniti Retail.

"What we took five years to achieve (turnover of Rs 2,000 crore) in the bricks and mortar model, we believe we will achieve that in online in one-and-a-half to two years due to growing internet penetration and changing buying habits," said Ajit Joshi, chief executive officer and managing director of Infiniti Retail.

According to a Forrester report, e-commerce in India will grow at a compounded annual growth rate of 57 per cent between 2012 and 2016. The e-commerce market will cross the $1-billion (Rs 5,000-crore) mark this year.

Pointing out that the e-retail venture of Croma would compete with discounting sites with "quality and quality of service," Joshi said the chain had tied up with a number of global brands such as Intel and Apple to retail their products.

Croma was also looking at extending its 24X7 call centre and standby facility to the online venture, Joshi said. It is not planning to give the cash on delivery option to customers initially.

"We believe Croma customers do not require that facility, as 65 per cent of Croma sales come from credit cards and our cash memo size is Rs 6,500. Tatas going into e-retail is a huge re-assurance for our customers," he said. The company will offer finance options to buyers.

"The world's most profitable online retailer is amazon.com, which is not a discounting site. We always follow the best in the global industry," Joshi said. Croma was working with Tata Group company Diesel and Fedex, and was also in the process of finalising a deal with India Post for logistics, he said.

To handle returns by customers, which were as high as 30 per cent, Croma was also working on reverse logistics along with these players, he said.

Cromak has 0.6 million sq ft of space across 73 stores, and plans to add 83,000 sq ft by the end of September. The company looks to reach break-even in the current financial year.