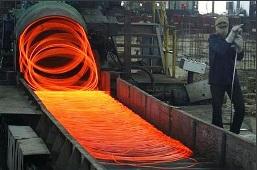 Tata Steel, facing rough weather due to high debt load and declining steel prices, is looking at the option of stake sales in various group companies, including Tata Motors.

The attempt would be to raise Rs 7,200 crore or $1.2 billion, say bankers.

Tata Steel owns 5.6 per cent in Tata Motors, worth Rs 5,014 crore at on Monday's close, apart from stake in other Tata Group companies (see chart).

Tata Steel might sell these stakes to its parent company, Tata Sons, to raise funds for expansion (in Odisha) and repay high cost loans, bankers said.

A company spokesperson declined to comment.

The Tata Steel scrip has lost 38 per cent of its value since January, as compared to a 4.5 per cent drop on the BSE Sensex and a 9.2 fall in the share price of Tata Motors in the same period.

It closed on Monday at Rs 277 a share on BSE; Tata Motors closed at Rs 284.

In 2012-13, say bankers, Tata Steel had sold a 4.37 per cent stake in Titan Industries, the entire stake in subsidiary Sila Eastern, and the entire stake in Wuxi Ltd (China), at a profit of Rs 940 crore.

And is to continue to sell its investments in this financial year, too.

Early this year, the company was in talks to sell its stake in the Dhamra port project (Odisha) to the Adani Group but is also awaiting the state government's permission to raise capacity so that it gets a better valuation for the loss-making port company, said a source directly related to the transaction.



Money needed

Analysts say it's important for the company to raise funds as it plan to invest a massive Rs 42,000 crore (Rs 420 billion)
in its Odisha plant in two phases and to pay for the European operations which face both low demand and output prices.
Besides, the total projected expenditure for the first phase has gone up to Rs 24,000 crore (Rs 240 billion) from the earlier estimate of Rs 19,000 crore (Rs 190 billion) because of currency depreciation and other cost overruns.
Tata Steel expects to spend Rs 8,000 crore (Rs 80 billion) annually over the next two financial years.
No decision has been taken yet on the second phase of the project.
Earlier, global brokerage firm CLSA had advised that Tata Steel sell its European plants to raise funds. The latter had then denied any plan to do so.
In a report dated June 19, Barclays has said it was sceptical of a large asset sale in Europe, since finding a buyer for the loss-making assets would be difficult due to weak demand there and large pension obligations of close to £500 million.
Unlike the steel-making asset in the Netherlands of 7.9 mn tonnes capacity, the British assets remain loss-making even after Tata Steel had taken a number of restructuring initiatives and reduced its workforce, the report says.
UK facilities
The losses are also because the UK facilities have significant exposure to long products, for which demand is the weakest in the European region.
"A distressed value sale would not help in improving debt conditions much.
"Further, a sale of only the Netherlands assets might not be viewed very positively by the market," says the report.
It further says the net debt will rise to a staggering $12 bn by 2014-15.
Thus, balance sheet consolidation has become top priority.
Tata Steel said it had saved Rs 1,600 crore (Rs 16 billion) from various cost reduction measures in 2012-13 and was targeting further savings from reduction of fuel consumption and more efficiency in raw material sourcing.