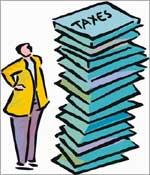 India's largest state-owned bank SBI, automobile giant Tata Motors and oil major Indian Oil Corporation, besides Sahara India and its promoter Subroto Roy figure in the list of top 100 tax defaulters in the country.
Disclosing the list of defaulters in the Rajya Sabha on Tuesday, Minister of State for Finance S S Palanimanickam said in a written reply that the top 100 tax defaulters owe the exchequer a whopping Rs 1.41 lakh crore (Rs 1.41 trillion) -- more than three times the amount the government spends on the NREGA scheme annually to provide employment to BPL families.
The Centre is taking various steps to recover the outstanding dues, the minister said, adding that the government has requested the adjudicating authorities like ITAT and Settlement Commission "to dispose of high demand cases expeditiously."
As per the list, disgraced stud farm owner Hassan Ali Khan tops the list of tax defaulters with an outstanding arrear of more than Rs 50,000 crore (Rs 500 billion).
The list of tax defaulters also includes stock broker late Harshad Mehta and his associates and other brokers like A D Narrotam and Hiten Dalal.
While the SBI owes Rs 333.6 crore (Rs 3.34 billion) in taxes, Tata Motors and Indian Oil Corporation have to pay Rs 206.5 crore (Rs 2.06 billion) and Rs 210.3 crore (Rs 2.10 billion) to the treasury.
As regards Sahara, many of its group companies figure in the list of defaulters, while its promoter Roy owes Rs 230 crore (Rs 2.3 billion)
to the exchequer.
Among leading public sector undertakings, BSNL has a tax demand of about Rs 2,417 crore (Rs 24.17 billion), while NTPC faces a demand for Rs 622 crore (Rs 6.22 billion).
VSNL Ltd (now Tata Communications Ltd) has a tax demand of about Rs 505.5 crore (Rs 5.055 billion).
Among Sahara group companies, Sahara India and Sahara Airlines (now JetLite) figure among tax defaulters apart from Sahara India Financial Corporation Ltd.
Besides, corporates which owe taxes to the government are Coca Cola India (Rs 600 crore), Baron International (Rs 589 crore), Oracle Corporation (Rs 558 crore), Rolex Holding Ltd (Rs 558 crore), Aaditya Luxury Hotels (564 crore) and Reliance Energy (Rs 176 crore).
Nokia, Daewoo Motors, Bunge India Ltd, Tata Industries, Satyam Computers and IBM Pvt Ltd are other companies which have been named on the list.
The minister said that these tax demands also include those which are difficult to recover for various reasons like demands notified under the special court, inadequate assets and companies under litigation.
However, among special measures being taken by the government to expedite recovery of default taxes includes monitoring of the recovery of amount in large cases by a task force.
"Invariably arrear demand above Rs 25 crore (Rs 250 million) is monitored by CBDT and between 10 crore (Rs 100 million) and 25 crore by CCIT/DIT (Recovery)," the minister said.