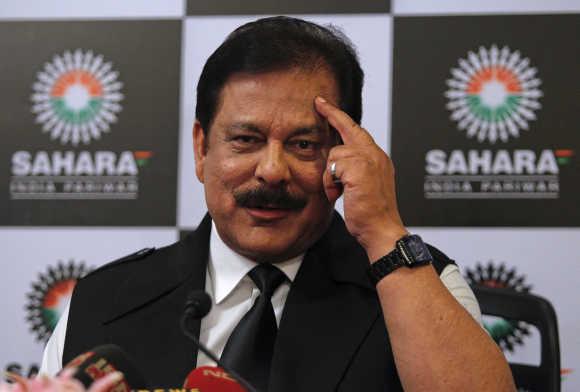 The Sahara group on Tuesday told the Supreme Court that its chief Subrata Roy is not liable for refunding Rs 24,000 crore (Rs 240 billion) collected by its two firms from investors, countering the arguments of SEBI, which wanted his passport to be impounded till the contempt plea against him and companies is decided.
Senior advocate Ram Jethmalani, appearing for a Sahara firm facing contempt for not refunding the amount as per apex court order, submitted that the redemptions have already been made by Sahara firms.
A bench of justices K S Radhakrishnan and J S Khehar, questioned Jethmalani's stand, saying that it is contrary to the affidavit by the company earlier.
"It is not correct. Your affidavit says otherwise. Your affidavit is staring at us," the bench said. Jethmalani also urged the court to take a sympathetic view, contending that contempt proceedings did not lie in the present facts and circumstances and Roy is not liable for repayment.
"I do not deny that he is Bhishmapitamah of family (head of Sahara group) but it does not mean that he is liable," he said.
The market regulator, however, submitted that all the money raised by Sahara India Real Estate Corp Ltd (SIREC) and Sahara India Housing Investment Corp Ltd (SHIC) went to Sahara group sister companies and Roy is equally liable.
"Roy was repeatedly seeking appointment with SEBI chairman and he had communicated with SEBI on this issue many times. He cannot dissociate now saying that he has nothing to do with the companies," senior advocate Arvind Dattar said.
"The Directors and promoters of the companies should be given maximum imprisonment. They should not be heard till Rs 24,000 crore is deposited with SEBI," he said, adding, "They should be directed to be present in court and their passports be impounded till the matter is decided by court".
He sought maximum punishment for Roy and others under Section 12 of Contempt of Court Act which provides punishment upto six months jail term.
The court was hearing three contempt petitions filed by SEBI against Roy, the two firms and their directors.
The apex court had on August 31 last year directed the Sahara group to refund the amount by November end. The deadline was further extended and companies were directed to deposit Rs 5,120 crore immediately and Rs 10,000 crore in first week of January and remaining amount in first week of February.
The group, which had handed over the draft of Rs 5,120 crore on December 5, has failed to pay the rest of the amount, SEBI told the court. The apex court had on August 31 last year directed the two Sahara group companies to refund the money to their investors within three months with 15 per cent interest per annum. It had also said that SEBI can attach properties and freeze bank accounts of the companies if they fail to refund the amount.
The two companies, their promoter Roy and directors Vandana Bhargava, Ravi Shankar Dubey and Ashok Roy Choudhary were told to refund the collected money to the regulator.