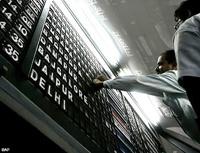 With strike by Air India executive pilots leading to cancellation of several flights, the railways are arranging special trains for stranded passengers.
Railway minister Mamata Banerjee on Tuesday said special trains would be arranged from Wednesday to carry stranded air passengers from Kolkata, Mumbai, Chennai, Delhi and Bangalore to their destinations.
"I have ordered opening of special railway counters at these places. The special train service will be for one or two days," she said, adding it could be extended depending on the situation.
She said an additional coach could be attached to each superfast train to carry the passengers.
Banerjee said she has asked union minister of state for shipping Mukul Roy to arrange a special service of the Shipping Corporation of India on Wednesday to bring back stranded air passengers at Port Blair.
A senior railway official said in New Delhi that all zonal authorities have been asked to provide information to passengers about vacant berths in all express trains at the temporary reservation counters and help booths at major airports.
The railways will coordinate with Air India officials to guide passengers, he said.