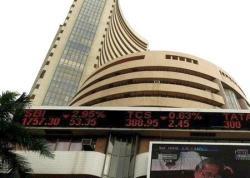 Markets ended up on Wednesday with National Stock Exchange's 50-share Nifty index surging above key 5,900 resistance levels led by buying in banks and index heavy-weights.

Risk appetite was firm on hopes of growth recovery in Asia after minutes of Bank of Japan monetary policy hinted towards further easing.

Meanwhile, hopes of quick resolution to US 'fiscal-cliff' issue after President Barack Obama cut short his Christmas holidays, also supported risk-on sentiments.

The Bombay Stock Exchange's Sensex index rose 162.37 points to end at 19,417.46 while the National Stock Exchange's Nifty-50 index gained 49.85 points and ended at 5,905.60.

Asian markets also ended on a positive note after Japan's ex- Prime Minister Shinzo Abe, whose Liberal Democratic Party won a landslide victory in the December 16 election, was appointed as premier today.

The new government has promised economic policies to boost growth.

China's Shanghai Composite rose 0.25% to 2,219, Singapore's Straits Times rose 0.4% to 3,182 while Japan's Nikkei gained 1.5% to 10,230.

Financial markets in Hong Kong and Australia are closed on Wednesday for public holiday.

Most of the European markets including France, UK, Greece, Italy were also shut today for Christmas holidays.

Back home,.capital goods, power, pharmaceuticals, metal, banks indexes lead the gain while IT declined on BSE.

Among key Sensex stocks, Bharti Airtel gained 3%, Sterlite Industries rose 1% and Jindal Steel gained 2% in metal space. Among banks, SBI and ICICI rose nearly 2% while HDFC Bank ended up 1%. while among autos, Bajaj Auto gained 2% and Mahindra & Mahindra rose 1%.

On the other hand, Hindustan Unilever fell 1.4%, Tata Motors and Hero MotoCorp fell 0.4% and 1% while TCS, Infosys declined 0.1-0.3%
on BSE.
Reliance Industries, the owner of world's biggest refining complex in Gujarat, gained 1% on reports that a panel appointed by the government had recommended a pricing formula that could sharply raise the prices of natural gas.
The other notable movers include, Credit Analysis and Research Limited (CARE) which is trading at Rs 925, a 23% premium against its issue price of Rs 750 per share in the late bidding on the National Stock Exchange.
Binani Industries rose 8% to Rs 142.20 after its Board gave an in-principle approval to divest its holding in subsidiary firm Binani Cement by up to 40%.
Essar Ports ended up 1.2% at Rs 95.80, extending its Monday's over 2% gain after the company announced the commissioning of its 16 million metric tonnes per annum dry bulk terminal at Paradip in Odisha, taking the aggregate handling capacity of the company to 104 MMTPA.
Glenmark Pharmaceuticals rallied over 4% to Rs 540.85, its highest level since September 2008 on back of heavy volumes on the NSE.
The stock opened at Rs 522 and has seen a combined 1.28 million shares changing hands on the counter so far compared to less than one million shares that were traded daily in past two weeks.
Suzlon Energy dipped 2% at Rs 17.60 in an otherwise firm market after the company said that its promoters have sold part of their stake to raise around Rs 63 crore (Rs 630 million) for corporate debt restructuring process.
The BSE mid-cap and small-cap gained nearly 0.4-0.7%.
The overall breadth was strong as 1,522 stocks advanced while 1,417 stocks declined on the BSE.
Ta-Ta, Ratan