In the wake of the furore over JWT's Ford Figo poster campaign, the relationship between ad agencies and clients was brought to the fore at Goafest 2013. The Figo controversy has thrown up the question of whether clients are colluding with agencies to produce scam ads.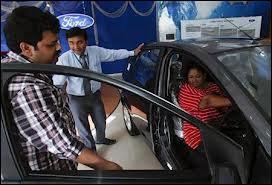 In Figo's case, the agency entered the ad for the Creative Abbies; when the controversy surfaced, it was withdrawn. Many say this wouldn't have happened if Ford executives hadn't given their go-ahead to the agency to enter the work for the awards. Work for the Creative Abbies has to be supported by client letters that indicate their genuineness.
Ford has, however, stated it didn't authorise the "sexist" Figo campaign.
Today, most large ad agencies have numerous checks and balances in place to reduce instances of scamming. Ad experts say after the Ford-Figo controversy, it is likely these would be reviewed to ensure agencies don't face embarrassment.
R S Sodhi, managing director, Gujarat Co-operative Milk Marketing Federation, or GCMMF (which owns the Amul brand), asks, "If there is trust between the client and the agency and if there is emphasis on brand-building, why would the issue of scamming creep up in the first place?"
Nitin Paranjpe, managing director and chief executive of Hindustan Unilever Limited (HUL), says, "A third of advertising communication is about creativity. Two-thirds relate to consistency of message. The latter is a key attribute and something advertising and marketing professionals must bear in mind."
Tom Bernardin, chairman and chief executive of Leo Burnett Worldwide, says, "We have the global product committee, chaired by Mark Tutssel (global chief creative officer). This committee meets four times a year at different venues. It looks at all the advertising done by our agency globally and rates these on our in-house seven-point scale. Low scores tell us a couple of things-—we need a leadership change or bring more creative talent on board."
Amir Kassaei, chief creative officer, DDB Worldwide, says, "There is zero tolerance for scam ads in our agency. Why should creative people indulge in scamming when there is genuine brand-building work to do?"
It is believed JWT is already scrutinising its processes to prevent creative people from uploading work on the internet before a campaign sees the light of day. The agency is likely to introduce tougher procedures to clamp down on scamming.
On Saturday, JWT received a shot in the arm when it was ranked third at the Creative Abbies after Leo Burnett and McCann, the top two winning agencies. The agency had a tally of 48 metals across brands such as Pepsi, Birla Sunlife Insurance, Goodknight, Nike, Apollo Munich Health Insurance, Airtel Broadband and Reynolds Pens. JWT executives say considering the low morale at the agency, this couldn't have happened at a better time. "This puts to rest the issue that we indulge in scamming. We do genuine work for brands and were rewarded for this," says a senior creative director at the agency.
Leo Burnett bagged 71 metals, and McCann, 55 metals plus a Grand Prix. Seventy-three organisations walked away with 442 medals---a significant rise compared to last year, when 61 organisations took home 333 metals.
As ad agencies clamour for recognition at the Creative Abbies, pressure on Goafest organisers to plug gaps in the selection process and ensure scam ads aren't rewarded is increasing. "Through the last three years, we have streamlined the procedure for selection of work to the Creative Abbies," says Shashi Sinha, chairman, awards governing council of Goafest, which monitors the Creative Abbies along with partner KPMG. "It isn't easy to enter work that is a scam. If clients are giving letters, we are looking at who is giving the letter. If it's a junior executive, we don't hesitate to approach his or her senior to clarify whether the letter was really authorised by them."