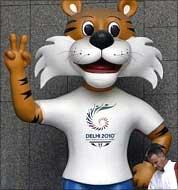 After all the news of delays and tardy work, it has now become clear that the Delhi Commonwealth Games, which will kick off on October 3, will not be the moneyspinner they were billed to be. The sponsorship money in the bag is a tad over a quarter of what the organisers of the games had projected.

Till date, the sponsorship money that has come in from all sources is Rs 342.2 crore (Rs 3422 million) - way short of the target of Rs 1,200 crore (Rs 12 billion) that the Organising Committee had set for itself. Organising Committee Secretary General Lalit Bhanot said the final tally could be higher because some sponsors are still walking in.
"We have got some proposals for sponsorships which will be finalised soon," said he. But the window is getting smaller. The Commonwealth Games are three weeks away, and athletes from across the world will start to descend on Delhi in a week's time.
The Organising Committee has now talked of a new target of Rs 1,620 crore (Rs 16.2 billion) but it includes the money raised from broadcast rights, and sale of tickets and merchandise. "It is going to be a revenue-independent model," Bhanot said.
While Delhi has 10 partners and sponsors for the Commonwealth Games, Melbourne, which hosted the last edition in 2006, had 8 partners which included the likes of Visa, Toyota, Qantas and Microsoft and 15 sponsors including Omega, Cadbury Schweppes and Konica Minolta.
There were also a host of other associates ranging from the official hotel to the official deodorant and official cleaning service.
Several potential sponsors for the Delhi Commonwealth Games did not make a pitch due to the negative publicity generated by the event. "With all the negativity that has been shown, sponsors have chickened out of it (sponsorship)," said Ogilvy & Mather national creative director Piyush Pandey.
But that was not the only reason. For instance, Havells India, which had put its money on the Indian Premier League, decided against participating in the Delhi Commonwealth Games well in advance.
"The Commonwealth Games have more of a local appeal than television appeal. Sponsorship proves expensive as we don't get enough air time on television. Besides, the event is smaller (than the Indian Premier League)," said Havells India joint managing director Anil Gupta.
PepsiCo executive director Vivek Bharti said: "It is a commercial decision why we associate with an event. Normally, our company endorses cricketing events."
State-owned enterprises also did not agree to sponsor the games even after an advisory to this effect was issued by the Department of Public Enterprises.
An official in one of the large state-owned companies, who did not wish to be identified, said that the company does not have enough money to shell out for sponsoring sporting events.