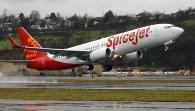 Low cost airline SpiceJet will introduce international flights to Bangladesh, Sri Lanka and Nepal from Kolkata by June.
"We have plans to introduce flights from Kolkata to Dhaka, Colombo and Kathmandu by next June," Samyukth Sridharan, chief commercial officer, SpiceJet.
To a question he said, the airline has no plan to operate flights on the Agartala-Dhaka route because of low traffic potential.
Spicejet introduced its first daily Kolkata-Agartala flight yesterday. Sridharan said, Agartala was the 19th destination in
SpiceJet's route network and would be connected with a daily service to Guwahati from May 10.