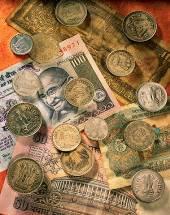 Higher growth in exports and contraction in imports caused a sharp moderation in the current account deficit in 4QFY13.

Steady inflows under remittances and software exports also contributed in narrowing of CAD to 3.6 per cent of GDP.

However, capital account surplus narrowed because of contraction in other banking capital.

Anand Rathi Financial Services recently carried out a research on the behaviour of the economy and CAD.

According to the research, the rupee was expected to remain under pressure in the next one year.

Here's what the research had to say:

CAD at 3.6 per cent of GDP: India's CAD for 4QFY13 narrowed to $18.2 billion from $31.8 billion in 3QFY13.

It stood at 3.6 per cent of GDP, the lowest in past two years.

During FY13, CAD has widened to $87.9billion or 4.8% of GDP compared with $78billion (4.2 per cent of gross domestic product) in FY12.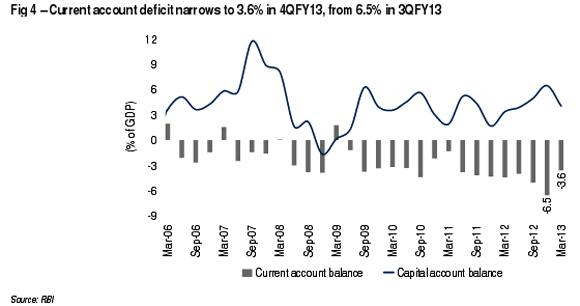 Trade deficit narrows: During the quarter, exports grew 5.9 per cent year-on-year, while imports declined 1 per cent, leading to a sharp moderation in trade deficit to $45.6 billion ($58.4billion in 3QFY13).

This was the single biggest contributor to the sharp moderation in CAD in 4QFY13.

Worker remittances, software exports firm: Workers' remittances in the quarter, at $15.8billion, remained steady versus $15.7billion in 3QFY13.

This component has risen exponentially (~8x) in the past decade.

Continuing its momentum, software services exports in 4QFY13 increased to $17.1billion, the highest ever in a single quarter.

Capital a/c surplus narrows on fall in banking capital: On account of contraction in other banking capital (-US$6.4billion), the capital account surplus narrowed to $20.5 billion versus $31.5billion inflows in 3QFY13.

It would have declined further, had there not been strong portfolio inflow of $11.3billion.

External borrowings pick up: External commercial borrowings in a quarter rose to $4.2billion versus $2.8billion in 3QFY13.

NRI deposits also rose marginally to $2.8billion in the quarter.

Outlook: CAD is likely to pick up again in 1QFY14 due to high gold imports during April-May 2013.

Remittances and software exports could, however, counterbalance the high merchandise trade deficit.

A sharp depreciation of the rupee may increase competitiveness of Indian exports.

This could reduce India's CAD, if global activities pick up in next one-two years. However, the capital account surplus may moderate in coming quarter due to debt outflows; there could be some relief from gradual improvement in foreign direct investment inflows and commercial borrowings.

Though the rupee may appreciate in next two-three months on some positive policy measures, we expect it to reach ~61-62 per dollar by end of January 14 because of increasing vulnerability on the capital account side.
Powered by