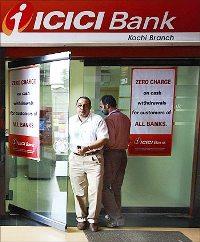 ICICI Bank, the country's largest private sector lender, on Tuesday introduced a slew of products and services for its non-resident Indian customers.

The bank is offering a preferential rate on foreign currency conversion, giving special offers on housing loans and providing assistance for searching properties.

Also, non-resident customers of the bank can avail of as many as 77 medical tests at a discount; their family members can open no-minimum-balance savings accounts with the private lender.

"This festive season, we have decided to delight our NRI (non-resident Indian) customers with a comprehensive bouquet of services to cater to their various needs, right from healthcare and buying a home to foreign exchange requirements and their family's banking needs in India," said Executive Director Rajiv Sabharwal.

The lender would charge a flat processing fee of Rs 5,000 on home loans up to Rs 75 lakh and Rs 10,000 on housing loans exceeding Rs 75
lakh.
The special offer is applicable for NRI home loans sanctioned up to October 31. The bank also has a referral arrangement with its arm ICICI Home Finance Company, which provides property search facilities in India.
ICICI Bank has also partnered Thyrocare Technologies, a clinical diagnostic laboratory, to offer customers special discounts on preventive health check-ups.
Non-resident customers can collect coupons from select ICICI Bank branches in India and get medical tests worth Rs 5,000 conducted for Rs 1,500. The offer is open to non-resident customers, as well as their family members.
For a limited period, the bank's non-resident customers can also avail of a range of preferential rates on foreign currency conversion at select branches in India. The rates would vary, depending on the currency and the amount to be converted.
"These offers have been designed based on customer insights derived from serving 1.5 million NRI customers across about 150 countries and processing over 2,00,000 NRI transactions a month," Sabharwal said.