The government influences the market price through its monthly release quota and regulated foreign trade.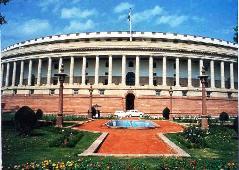 The civil aviation ministry has decided to launch an airfare monitoring cell and push domestic carriers to reduce fares so that the passenger load factor, or PLF, goes up.

The argument is that, although this is the busy season, average PLF is declining; a cut in fares will improve it and help the carriers make money.

The cell, Civil Aviation Minister Ajit Singh told this newspaper, will 'monitor fares closely and make them reasonable and transparent' and will not regulate fares.

Earlier, in August, the finance ministry had asked banks to put pressure on real estate developers to cut prices.

And last week the Cabinet approved changes in the National Pharmaceutical Pricing Policy that will reduce the prices of 348 essential medicines and their various combinations.

The new prices, which some estimates suggest could be 50 to 70 per cent below current prices, would come into effect by April next year.

It ties in very well with the United Progressive Alliance's resolve to provide free medicine through government hospitals and dispensaries.

Estimates suggest that this could reduce the profit margins of pharmaceutical companies by as much as 25 per cent.

Is the government obsessed with price control as India heads towards 2014, and general elections?

If electoral urgencies get the better of sound economics, the
results would be devastating.
Take the example of sugar.
The government influences the market price through its monthly release quota and regulated foreign trade.
At the same time, Uttar Pradesh (the largest sugar-producing state in the country where most of the private mills are located) keeps on raising the price at which the mills can buy sugarcane from farmers.
The result: low profits, huge arrears to sugarcane farmers and the drying up of investment in the sector.
There can be an argument for price controls on a sector reporting super-normal profits.
But civil aviation? Most carriers are neck-deep in losses.
Naturally, when cash-strapped Kingfisher Airlines suspended its operations and overcapacity in the sector came down, both PLF and fares went up.
Now, the civil aviation ministry wants to bring down the fares and improve PLF.
Lowering and raising fares are commercial decisions that are best left to the carriers.
If there is a business case for reducing fares, they will do it on their own.
There is no need for the government to get involved.
At a time when the sector has been opened up to foreign carriers, it would send the wrong signal to potential investors.
This obsession with price control is reminiscent of pre-liberalisation days when the government zealously regulated the prices of commodities like cement and steel.
As a result, those sectors saw little fresh investment.
India is thankfully beyond accepting such measures now, and the government would do well to remember that.