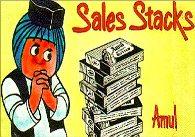 Impressed with the success story of Gujarat Cooperative Milk Marketing Federation Limited (GCMMF), which sells its products across India under the 'Amul' brand name, South Africa has expressed interest in following this model in its land.

Harris Sithembile Majeke, the High Commissioner of South Africa to India, and Mvuyo Mhangwane, the South African High Commission's Counselor-Political, visited GCMMF's facility at Anand on Tuesday to understand the 'Amul' model of dairy cooperatives, GCMMF Managing Director R S Sodhi told PTI.


They had come on the invitation of Gujarat government, he said. Formed in 1946, GCMMF started off as a dairy cooperative movement in India.


Today, Amul is a brand name that is jointly owned by some 2.6 million milk producers in Gujarat and managed by this apex cooperative organisation.


The visiting South African officials
said that Amul personified the best model for poverty alleviation, Sodhi, who interacted with the visitors, said quoting them.
They said the experiment would be particularly helpful in solving the problems of small dairy farmers in their country. The delegation also noted the impressive growth achieved by GCMMF, which is now a Rs 12,000 crore ($3 billion) entity.


They were impressed with the model, which not only provides livelihood to 3.1 million milk producers in Gujarat but has also brought prosperity to milk producers in other parts of India, as the 'Amul' model has been successfully replicated under the government's 'Operation Flood' milk production programme.


The dignitaries, who spent about half-a-day at the Anand facility, were briefed on the history of Amul and the vital role played by V Kurien, the father of the country's 'White Revolution', Sodhi said. The MD said, "We offered all cooperation to South Africa in starting a dairy cooperative on our model."