Auto maker Sonalika Group on Thursday said it is looking to set up two assembly lines for producing tractors in East and South African regions as it aims to double exports turnover to Rs 800 crore (Rs 8 billion) within three years.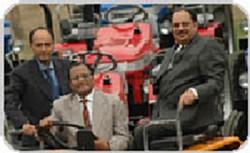 The group, which handles farm equipment business through International Tractors Ltd (ITL), is also exploring options to join hands or to acquire a local firm to set up its base in Europe, a decision on which is likely to be taken within the next three months.

"We are looking at setting up regional assembly hubs in East Africa and South Africa. Currently we are finalising the countries and locations, and a final decision will be taken in the next three months," ITL President (International Business) Rajiv Wahi told reporters here.

The company has identified many countries in the regions such as Tanzania and Kenya in the East and Mozambique, South Africa, Zimbabwe and Namibia in the South for the two proposed assembly facilities, he added.

"The capacity will ideally be 2,000 units per year on a single shift basis, which can easily be upgraded when required by starting the second shift or adding a new line," Wahi said, adding the plants are expected to be operational this year.

The company currently has three assembly facilities in Africa in Nigeria, Egypt and Cameroon, where it started operations last month. Besides, another assembly unit is being set up at Algeria.

Each of these facilities has an annual production capacity of 2,000 units on a single shift basis.

Talking about plans for the European market, Wahi said ITL is exploring possibilities to acquire a company or tying up with a local player to set up an assembly line there.

"We have very aggressive plans for Europe. In the next three months, we will decide on the final details," he said.

The company had earlier announced its target to launch tractors by this year in Europe. Besides, the homegrown firm is planning to make its Argentinian operations as the regional hub for Latin America.

"We are looking at acquisitions in Argentina and Brazil. We currently export to Brazil, Peru, Chile and Ecuador from Argentina and we want to make it a regional hub," Wahi said.

The company is also studying various options for the Chinese market to make a foray there, he said, adding "in 3-4 months, we will have a better picture".

When asked about the company's revenue, Wahi said ITL is likely to clock an export turnover of Rs 400 crore (Rs 4 billion) in 2010-11.

"In the next three years, we are aiming to double our export revenue. At that time, the contribution from exports is expected to grow to 20 per cent from 10 per cent at present," he said, adding the total turnover of ITL is expected to be Rs 2,000 crore (Rs 20 billion) this fiscal.

Wahi said in the long-term, say a decade, as the company aspires to be a truly global firm, its export and domestic revenues are likely to be the same.

During this financial year, the company is expected to sell 6,000 units in the overseas markets, he added. ITL, which clocked a turnover of Rs 1,500 crore (Rs 15 billion) last fiscal, sold about 34,000 units in 2009-10 and is targeting to sell 50,000 units in this financial year with revenue of about Rs 2,000 crore (Rs 20 billion), Wahi said.

The company currently exports its products to 67 nations, of which it has a strong presence in Latin America, Africa and the SAARC regions.