Six countries from the Green Group want to link climate change with the issue of availability of water at the ongoing UN summit on climate change in Cancun in Mexico.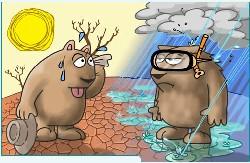 "Water runs through every basin of human development and is therefore a crucial element of any climate change action. It is our collective responsibility to make the water issue more visible," the Green Group said in a joint statement.

Green Group members Costa Rica, Iceland and Slovenia have an abundance of water resources while Cape Verde and the United Arab Emirates face serious water scarcity and Singapore has limited land for reservoirs despite receiving abundant rainfall.

The statement points out an array of threats that the climate change pose to water availability saying it affects rainfall patterns: it prolongs drought periods and decrease soil moisture, leading to irreversible land degradation and desertification.

"It also increases the frequency of extreme meteorological events and water-related natural disasters, such as floods and landslides. Effects of climate change on the world's oceans are also a cause for great concern. Briefly, water changes are climate change in a nutshell," it said.

Despite these facts, it sometimes seems that climate negotiations are sidelining the importance of water, the Green Group said in the statement noting that the United Nations Framework Convention on Climate Change (UNFCCC) refers to water management only once in the context of adaptation to climate change.

"Similarly, the Bali Action Plan only implies the importance of water management. Water was also omitted in the Copenhagen Accord," said the Group hoping that the Cancun would recognise the link between climate change and water as well as the importance of improved water management in successfully addressing the impacts of climate change.

According to the UN, more than 82 billion people will face severe water stress by 2025 mainly due to climate change besides increased human population.