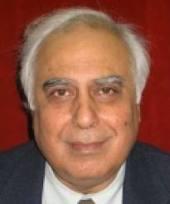 Making a strong pitch for investments in the country, India has listed healthcare, IT and cyber security as the three key areas where it along with US could work together for mutual benefit.

If the US were to look from the east coast across the Atlantic for a country with which it could collaborate, then India would be that country for reasons more than one, Minister for HRD and Communications and IT Kapil Sibal.

He was speaking at a luncheon organised by the US India Business Council and Confederation of Indian Industry.

India, he said, has everything that a nation like the US could ask for -- democratic government, strong judiciary and absolute freedom.

CII president, Adi Godrej, who is leading a high-level CEOs' delegation to the US as part of the India-US Strategic Dialogue, expressed hope on this occasion that the dip in sentiment world-wide was momentary.

He expressed confidence that industry on both the sides was resilient enough to withstand pressure and reiterated that it was in times like these that the role of governments came into play.
Image: Kapil Sibal