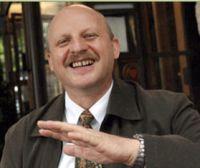 Air India's Chief Operating Officer Capt Gustav Baldauf has been served a show cause notice following his reported remarks about political interference in the airline's day-to-day affairs.
The national carrier issued the notice after an interview Baldauf gave to a daily, which quoted him as saying: "It is certainly a difficult environment, in the Indian environment, the stakeholder - the government - plays too prominent a role in operations."
The Austrian national, who earlier worked in senior capacities in several airlines including Jet Airways and Austrian Airlines, was quoted as saying: "When you call someone from outside, let him work. The government should control but let him work. It should not be involved in day-to-day operations."
An Air India official said: "The management has not taken his remarks lightly and has sought his explaination on the issue."
Baldauf, who also met Civil Aviation Minister Vayalar Ravi, refused to comment on the matter.
Baldauf has been opposing the removal of Capt Pawan Arora as the COO of Air India Express, saying it would affect the turnaround plan of the ailing national carrier.
After Baldauf's appointment last April, the Air India Board had appointed Arora and also Stefan Sukumar as the Chief Training Officer on a hefty pay package.
Sukumar put in his papers recently after the Directorate General of Civil Aviation raised objections to the status of license as CTO.
Baldauf was appointed at an annual salary package of Rs. 3 crore (Rs. 30 million) with the mandate to implement Air India's urnaround plan.
Soon after taking over, he had brought in Arora and Sukumar, and also Kamaljeet Rattan from Reliance as the airline's Corporate Communication head.
After a meeting with the management and unions in Mumbai last week, the Civil Aviation Minister had said that the ministry would evaluate the performance of Air India top management besides carrying out their performance review on a regular basis.
He had said that expectations about rescuing the sick company needed to be realistic and it cannot be done in a short time.
Air India's pilots union ICPA called for a strike on March 9 on several demands.
The ICPA and other unions have alleged that in the last one year, the airline has doled out its profitable routes to private carriers, resulting in the steep decline in its market share.
With a market share of 15.8 per cent in January this year, down from 18 per cent in the same period last year, the
flag carrier stands at fourth position after Jet Airways, Kingfisher and budget carrier IndiGo.