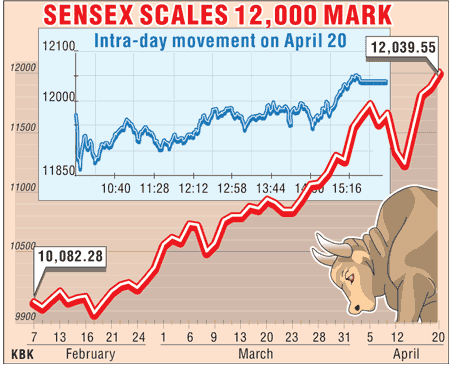 Frenzied buying activity in Reliance and metal stocks saw the Sensex zoom past the 12,000-mark on Thursday.

After four failed intra-day attempts, the index finally managed to cross the 12,000-mark on the fifth attempt towards the end of the trading session. The index dipped a bit thereafter, but zoomed back soon and hit a new all-time intra-day high of 12,054.

The Sensex finally ended the day with a huge gain of 144 points (1.2%) at a record high of 12,040.

In doing so, the Sensex broke a sort of jinx! On days when the index had pierced the last three landmarks, viz 9K, 10K & 11K, the index had failed to close above it on the first day. In fact, on the last occasion when it crossed the 11K mark on March 20, 2006, the index retreated sharply and ended 112 points off its intra-day peak (11,017) at 10,905.
Sensex journey: From 1K to 12K!
The last time the index had closed above any of its psychological mark on the first day was on September 8, 2005 when the index first pierced the 8,000-mark and closed above that level at 8053.

Led by sharp gains in Reliance, the BSE OIL & Gas index soared 4.4% to 5605. The Metal index surged nearly 4% to 10,398. The Auto index was up 1% at 5467. The BSE Consumer Durables and Health care indices dropped 0.7% each to 8670 and 3928, respectively.

The market breadth was marginally positive. Out of 2,550 stocks traded, 1,360 advanced, 1,135 declined and 55 were unchanged today.

INDEX MOVERS & SHAKERS

Reliance was the talk of the Street today. The stock touched a life-time high of Rs 999.95 before closing with a sharp gain of 8% (Rs 74) at Rs 995. The counter clocked a volume of around 63.13 lakh shares.

Tata Steel rallied 5.8% to Rs 644, and Hindalco surged 5.6% to Rs 216.

Tata Motors zoomed 3% to Rs 952. Bajaj Auto advanced over 1% to Rs 2,980, and Maruti was up nearly 1% at Rs 881.

Late buying at the Satyam counter saw the stock spurt over 2% to Rs 872.

Grasim added nearly 2% to Rs 2,352. ONGC moved up 1.6% to Rs 1,349, and ITC gained 1.4% to Rs 201.

After reporting a marginal decline in bottomline for the year ended March 31, 2006, NTPC slumped 2.5% to Rs 139.

HDFC declined 2% to Rs 1,275. Hero Honda slipped 1.7% to Rs 857.

Ranbaxy and Cipla shed around 1.5% each at Rs 473 and Rs 662, respectively.

TCS dropped 1.4% to Rs 1,989. Wipro was down nearly 1% at Rs 555.

OTHER GAINERS & LOSERS

Ispat Industries was relisted on the bourses today. The stock swung between a high of Rs 24.85 and a low of Rs 14.50 before settling at Rs 23. The stock was last traded at Rs 10.47 on December 15, 2005 when the company delisted the shares to complete the process of reconstruction and amalgamation.

Tata Metaliks and Panacea Biotech hit the 20% upper limit each at Rs 200 and Rs 463, respectively. Sadbhav Engineers, Tata Sponge, Garware Polymers, Sakuma Exports, Bayer, Rayban, Thirumalai Sugar, MTNL, Reliance Communication Ventures, Sterlite Optical, Cummins, Finolex Industries and VSNL were the other major gainers.

Syngenta and State Bank of Mysore plunged over 6% each to Rs 390 and Rs 5,575, respectively. Chowgule Steamship, Shaw Wallace, Repro India, West Coast,, GSK Consumers, Merck, Hexaware, ING Vysya Bank, Chennai Petro and Sun Pharma were the other prominent losers today.

VALUE & VOLUME TOPPERS

Reliance led the value chart with a turnover of Rs 614.19 crore followed by Tata Steel (Rs 215.21 crore), Reliance Communication Ventures (Rs 144.35 crore), Satyam (Rs 106.52 crore) and Hindustan Zinc (Rs 102.46 crore).

Ispat Industries topped the volume chart with trades of around 86.64 lakh shares followed by IFCI (69.38 lakh), Essar Oil (64.12 lakh), Reliance (63.13 lakh) and Reliance Communication Ventures (48.27 lakh).
Do you want to discuss stock tips? Do you know a hot one? Join the Stock Market Investments Discussion Group