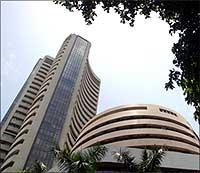 The markets lost ground in the last hour of trade. The Sensex shed around 200 points from its intra-day high of 17783 to end at 17590, lower by 121 points and the Nifty shut shop below the 5300 mark at 5262, down 40 points.
Not all was gloomy though. The mid-cap index ended marginally up at 6789 and the small-cap index addd nearly 1% at 8455.
Asian Star was the top gainer in the mid-cap space, strengthening by 17% at Rs 1120. Kansai Nerolac Paints, JM Financial and Corporation were the other significant movers.
In the small-cap space, Rollatainers gained 11% at Rs 298, with MSK Projects, BAG Films and Advanta India closely following suit. And the market breadth remained strong, with 1693 gainers as against 1089 losers. 
Meanwhile, IL&FS Transportation Networks made a modest debut on the bourses.
The transportation company listed at a premium of 11% at Rs 287 on the Bombay Stock Exchange as against its issue price of Rs 258 a share. The stock finally ended around 7% higher at Rs 273.
HDFC Bank was the top loser among the Sensex stocks, weakening by 2.9% at Rs 1906. And a strong rupee continued to haunt the IT space; Infosys shed 2.6% a Rs 2643, while Wipro ended 1.9% down at Rs 702 and TCS lost 1.3% at Rs 800. 
Index heavyweight Reliance Industries reversed its early gains to end half a per cent down at Rs 1087.
And Hero Honda Motors lost 1.9% at Rs 1966 despite announcing a liberal special dividend of Rs 80 per share to commemorate its silver jubilee.
On the gainer's side, DLF ended 3.2% at Rs 308. Tata Motors gained 2.2% at Rs 756 and Sterlite strengthened by 1.1% at Rs 845.