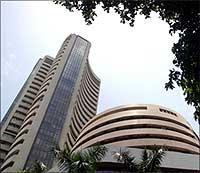 Infosys third quarter results dissapointed the street and put a plug on Wednesday's rally. The markets were dragged lower by losses IT and Bankex shares.
Markets opened in red after Infosys reported a 14.3% rise in net profit for Q3, below market expectations as rising Rupee weighed.
The Nifty opened at 5,851 and skidded to a low of 5,736 led by heavy losses in frontline banking and IT shares.
The S&P CNX Nifty extended losses and ended near day's low at 5,752, down 111 points and the Sensex closed at 19,182, down 351 points.
Markets were unable to hold on to Wednesday's pull back rally, technical charts indicated that upside on the Nifty was capped around 6000. Gaurang Shah, AVP, Geojit BNP Paribas Financial Services said, 'from purely short-term point of view, investors should take the money off the table closer to 5940-6000 levels and anything below 5700 will be an opportunity to buy.'
Infosys results dampened market sentiment as the IT bellwether gave a muted guidance for sequential growth.
The stock was beaten badly, it dipped to a low of Rs 3201, down 8% from its life time high of Rs 3,495 on January 7th.
Infosys closed at 3,212, down 4.8%.
The management CEO and MD, S Gopalakrishnan indicated cautious outlook emphasizing on the risks from weaker economic recovery and sovereign default on demand.
Also, Gaurang Shah reckoned, "rising wages is a concern and has direct impact on Infosys bottomline. Furthermore, slow recovery in the global market and unemployment rate could hamper the outlook going forward, but it is short-term
negative."
Geojit BNP Paribas Financial Services recommended a buy on Infosys close to around Rs 3,200-3,240 with price target of Rs 3,540 in 12 months.
Rival IT players were also trading in the red, Wipro was down 2.7%, HCL Technologies fell 3.1% and TCS dropped 1%.
The IT index plunged 3.4%.
Food inflation eased marginally, but continued to remained in double digits, at 16.9% for the week ended Jan 1, and fuel price index climbed to 11.53%, putting pressure on the government to raise rates.
Bankex continued to play a spoilsport, the BSE Bankex index was down 3.5%. ICICI Bank dropped 3.8%, Kotak Mahindra Bank  declined 4%, State Bank of India fell 3.9% and ICICI Bank was down 3.8%.
Infosys was the top Sensex loser, other prominent losers were Hero Honda, down 2.3%, Jindal Steel was off 2% and Mahindra & Mahindra was down 1.7%.
Only 3 components on the Sensex were trading in the green, ONGC, up 1%, Tata Motors, up 1.6% and DLF, up 0.6%.
Broader markets were also trading in the red, the midcap and largecap shares were down 0.8% and 0.7% each.