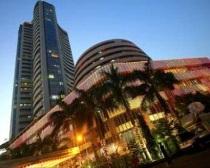 Markets ended the day below the dotted line, albeit off the day's lows.

Earlier in the day, the Sensex slumped over 200 points after a strong earthquake hit Northern Japan.

Better-than-expected IIP data was largely ignored by investors as continuing turmoil in Libya and high crude oil prices weighed on the market sentiment.

The BSE Sensex dropped to a low of 18,063 as news of the quake came out. The index, thereafter, recovered marginally to end at 18,174 - down 154 points. CNX Nifty dropped 49 points at 5,445.

Massive tsunamis measuring 7 meters hit the north-eastern coast of Japan, after a terrific 8.9 magnitude earthquake struck the island nation 150 kms off the Japanese coast.

The country's Cosmo refinery caught fire after the incident. As many as nine nations have now issued tsunami warnings, fearing aftershocks in the area.

Markets in Asia tumbled on the news. Nikkei slumped 1.7% to 10,254. Hang Seng shed 1.5% to 23,249.

Straits Times and Seoul Composite dropped 1% each.

US bourses ended in the negative zone on Thursday as fears of Saudi unrest dampened the economic outlook. The Dow slipped nearly 2% to end below the 12,000 mark.

Nasdaq and S&P 500 dropped 1.8% each. European debt concerns only added to worries of investors.

Meanwhile, India's index of industrial production showed that growth slowed to 3.7% in January compared to 16.8% expansion in the year-ago period, dragged down by the poor performance of the manufacturing sector.

However, growth in factory output was better than the 2.53% expansion (revised upward from 1.6%) witnessed in the previous month.

Infra stocks were weak through the day, as fears of higher interest rates impacting borrowing cost dampened sentiments. Realty index slipped 1% - in line with bankex and IT.

Metal stocks declined on worries high global crude oil prices and US unemployment may derail global economic recovery. BSE metal index shed 2% at 15,362.

Tata Steel shed 2.5% to Rs 582 after news of a probable rise in raw material prices owing to rise in input costs. JSW Steel slumped 4% to Rs 902. Sterlite and Hindustan Zinc dropped around 3% each. Other losers were Sesa Goa, Hindalco, SAIL and Jindal Steel.

Nalco added marginally to Rs 466 ahead of its 1:1 bonus issue and stock split due next week.

BHEL slumped 3.6% to Rs 1,975. Jaiprakash Associates, Bajaj Auto, Mahindra & Mahindra, Cipla, DLF and Maruti Suzuki slipped 1-2% each. Other losers included IT and financial stocks -  TCS, Wipro, Infosys, HDFC, HDFC Bank, SBI and ICICI Bank.

Telecom stocks declined on reports that the government has issued notices to Idea cellular and Etisalat for cancelling their 2G licences for missing roll-out obligations.

Reliance Communications dropped 3.5% to Rs 96. Bharti Airtel slipped2% to Rs 323. Idea Cellular slipped 2% to Rs 61.

However, BSE oil & gas index gained 1% at 9,722.
Market heavyweight led the gains with 1% upmove at Rs 993. ONGC jumped 2% to Rs 281 after postponing its FPO.

Oil marketing companies gained as crude oil prices cooled a bit. HPCL and Oil India added 1.6% each to Rs 321 and Rs 1,270, respectively.

BPCL added 0.3% to Rs 547.

BSE market breadth was negative. Out of 2,970 stocks traded, 1,928 declined while 924 advanced.

Markets would be looking towards the Reserve Bank of India's mid-quarter policy review on March 17.

The fourth advance tax payment installment on March 15 may also give some direction to the markets.