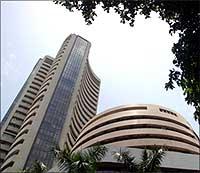 It was a double whammy for the markets on Friday as Infosys fourth quarter results were below analysts' estimates and inflation for the month of March surpassed the Reserve Bank of India target of 8% raising expectations of further rate hikes.

Markets gave up most of the gains made in previous session as traders' dumped frontline IT shares after Infosys reported 17% jump in net profit y-o-y, trailing street expectations.

Infosys dragged the Sensex down by 193 points and Wipro and TCS contributed to another 30 points slide.

The Sensex ended down 310 points, at 19,387 and the Nifty declined 87 points, at 5825.

Shares in Infosys sinked 9.6%, falling below Rs 3000, the stock was hovering around Rs 2,989.

The company's net profit was up 17.1% at Rs 1,818 crore compared to Rs 1,552 crore in the corresponding quarter last fiscal. On a sequential basis its net profit was up by 2.1%.

The management said fourth quarter is generally soft; business environment was improving slowly, but pricing environment is expected to remain muted.

The management is looking at optimizing operations and is hiring 45,000 people in FY12. However, management added that currency fluctuations remain a concern.

EBITDA margins fell to 29% versus 30% reported in the previous quarter, analysts expect Infosys margins to be under pressure going forward.

Gaurang Shah, AVP, Geojit BNP Paribas Financial Services said, "the margins were under pressure because of retention of good man power and cross currency fluctuations.

Going ahead, they will remain under pressure if QE2 review turns negative, which will put Euro and Dollar
under pressure. In such a case, the Rupee will appreciate."
Inflation accelerated the RBI target of 8% in March which may prompt the Reserve Bank of India to tighten further in the upcoming policy review on March 23rd. Rising prices of vegetables and manufactured items drove the headline inflation to 8.98%.
The overall inflation measured on the basis of Wholesale Price Index (WPI) was 8.31% in February.
Options writers squared of their put positions after the Infosys results." Shshank Mehta, Derivatives Strategist, Nirmal Bang said. "A lot of put writing was observed at 5,900 and 6,000 strike prices; put writers who had a bullish stance were squaring off."
IT shares were the top sectoral losers; BSE IT index dipped 6.4%. Besides Infosys Wipro declined 5%, and TCS slipped 1.5%. Realty shares were also weak, the index was down 4.8%.  DLF was off 2.4%. D B Realty declined 3.8% and Ackruti City fell 4.3%.
Top losers on the Sensex were ICICI Bank, down 2.4%, Hindustan Unilever fell 1.8% and HDFC was off 1.5%. Only 7 components on the Sensex were trading in the green, Hero Honda gained 5.5% after it declared interim devidend of Rs 70 per share, Bharti Airtel was up 1.4% and Bajaj Auto advanced 1.1%.
Broader markets were also weak, the midcap and small cap indices were down 0.2%% each. Market breadth was negative, 1597 shares declined for 1303 shares that advanced.