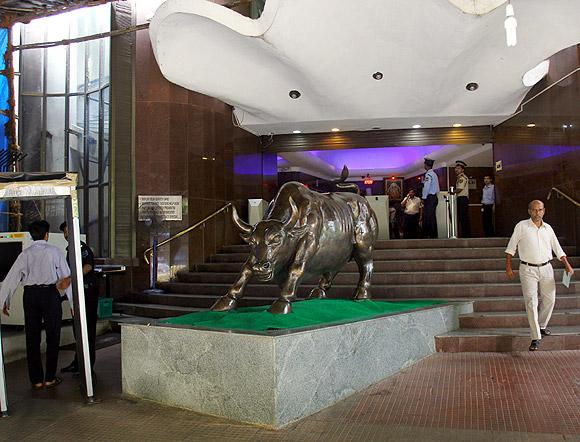 Equity market's benchmark index Sensex on Thursday missed its all-time high level by only 1.33 points, but the country's overall investor wealth still remains nearly Rs 10 lakh crore below its peak level seen three years ago.
At the end of today's trade, the total investor wealth, measured in terms of cumulative valuation of all listed companies, stood at Rs 68,44,774 crore (Rs 68.44 trillion) -- an increase of over Rs 64,000 crore (Rs 640 billion) from Wednesday's level.

However, this still remains far away from the country's record high investor wealth level, which was recorded on November 5, 2010 at nearly Rs 77,28,600 crore (Rs 77.28 trillion).

Incidentally, the Sensex is now trading nearly 200 points above the level seen on November 5, 2010, when the index had closed at 21,004.99 points.
The Sensex has surged 9.20 per cent, or 1,784.75 points this month -- its best monthly gain since January 2012.
Among the 30-Sensex blue-chips, 21 ended the day in green, with SBI leading the chart with over 4 per cent gain.
From the 13 BSE sectoral indices, only healthcare index saw decline. Consumer Durables index was the best performer with 2.65 per cent rise.
On the BSE, 1,319 stocks advanced, while 1,161 scrips declined. Eighty-nine stocks hit their 52-week high on the BSE today.