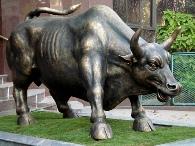 The Indian markets ignored the lower than expected IIP numbers and ended with modest gains.
The Sensex opened on a flat note taking cues from the Asian markets.
The BSE benchmark index pared its early gains as telecommunication stocks extended Tuesday's losses after the telecom regulator suggested telecom firms to pay a one-time fee for holding radio-spectrum beyond 6.2 mega hertz (MHz) based on 3G prices.
The Sensex slipped into the red to touch a low of 17,028. Global markets weighed on our bourses as investors remained concerned about the global economy's outlook despite a massive rescue package to combat the European debt crisis.
The India's industrial output was at 13.5% which is much lower than expected. India's industrial output grew lower than expected in March, weighed down by a partial withdrawal of stimulus measures and a rate hike, data showed on Wednesday.
The markets however rebounded into the positive as the interest rates sectors like realty, metal and auto gave up their losses and ended with modest gains.
The Sensex finally ended at 17,196, up 54 points. The NSE Nifty settled 21 points higher at 5,156.
The market breadth was fairly negative, out of 2,957 shares traded, 1,645 declined and 1,210 advanced on the BSE.
Among the sectoral indices, healthcare and FMCG indices added 1.5% each on the BSE while TECk and power indices were down 0.5% each.
INDEX GAINERS...
ITC was the major gainer, up 2% at Rs 265. The other major gainers were Wipro, SBI, Tata Power, Reliance abd HDFC Bank, up 1-2% each on the BSE.
...AND THE LOSERS
Bharti Airtel declined 8% to Rs 261. Mahindra & Mahindra and Jaiprakash Associates were down 2-3% each.
VALUE & VOLUME TOPPERS
Tata Steel topped the value chart with a turnover of Rs 116.62 crore, followed by SBI (Rs 104.79 cr), Bharti Airtel (Rs 101.33 cr), Reliance (Rs 84.10 cr) and JSW Steel (Rs 71.93 cr).
The volume chart was led by Talwalkar's Fitness with trades of 13.55 million shares, followed by RNRL (9.7 million), Glory Ployfilms (8.97 million) and Birla Power (7.68 million).