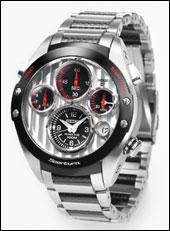 Japanese premium watch maker Seiko on Friday said it will introduce watches priced up to Rs 15 lakh (Rs 1.5 million) in India this year, as it looks to take on Swiss rivals like Rado and Tissot.
The company, which has been in India through its subsidiary Seiko Watch India for the last three years, sells around 253 watch models with prices starting from Rs 5,200 to Rs 60,000 a piece.
"We have lined up a series of watches to be launched this year from our global portfolio before the festive season...We will launch two or three collections of our luxury watches," Seiko Watch India vice president (sales and marketing) Niladri Mazumder told PTI.
The company plans to introduce its global brands Galante' and 'Grand Seiko' which are priced up to Rs 15 lakh, within this year. Besides the company also plans bring the 'Ananta' range priced between Rs 1 lakh and Rs 5 lakh this year.
"India is among the top priority countries for Seiko. Our aim is to be among the top watch brands in the country in the next five years. At present, we are enjoying a growth rate of 43 per cent," he said, adding that it plans to grow at the 50 per cent this year.
Mazumder, however, did not disclose the company's revenues in India. According to industry estimates, the premium and luxury watch segment in India is valued at around Rs 700 crore (Rs 7 billion) and is growing at the rate of 30 per cent. It is currently dominated by Swiss watch makers, including Rado, Omega, Tag Heuer and Tissot.